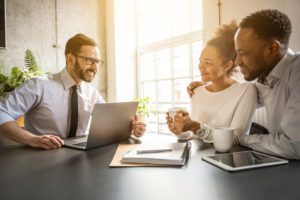 Car accidents can result in tens of thousands of dollars in medical bills and property damage costs. We purchase auto insurance to help offset the costs of accident-related expenses. While insurance companies are legally liable to compensate victims for their short- and long-term damages, it is not their responsibility––nor is it in their best interest ––to help you understand the dollar value of your losses or how to prove your case. Unfortunately, too many people put their faith in insurance adjusters, resulting in them not receiving enough funds to cover their losses. Keep reading to learn the five common tactics that insurance companies utilize to reduce the value of claims.
If you were in a car accident, contact TX accident lawyers Sutliff & Stout. Our top car accident attorneys know the tactics insurance companies use to reduce your claim's value and will negotiate with them to ensure you receive a fair settlement. Additionally, we will help you understand how much your claim may be worth by evaluating medical bills, property damage, and other related factors.
We want to help you too.
Submit the short form below to get a free case review.
Rushing to Document Claims
Some car accident injuries may not show symptoms right away. For instance, traumatic brain injury signs may be very subtle. Many victims assume they cannot concentrate and think nothing of it. Insurance companies understand that certain injuries can take time to fully manifest, and they will often try to rush the claims before you realize how severe your injuries are. Some companies may even call you on the day of the accident to expedite your claim. People see this as a good sign, but once you accept a settlement offer, you most likely will not be able to seek more compensation if severe injuries appear later.
Asking for a Recorded Statement
Another standard tactic insurance companies use to devalue claims is to ask accident victims for a recorded statement detailing their accident and injuries. It seems like a standard part of the claims process, but it is a sneaky tactic by insurers. They want to learn more about the accident in hopes you say something they can later use to blame you for the crash.
Insurers will also ask you about your injuries, even if you have not seen a doctor yet. They know you are not a medical or legal expert and will use your lack of knowledge against you. Even saying "I'm fine" can cost you the entire settlement. Always refuse a recorded statement. Once you have an attorney, you can even refer all communication from the insurance company to them.
Disputing Medical Claims
Insurance companies will lower your compensation by arguing that your injuries are not as severe as you claim. Similarly, they may claim that your injuries should have healed already or that your treatment is taking an unnecessarily long time. Insurers may also try to convince you to end treatment early. They are not medical professionals and should not be offering advice on these decisions. Throughout your recovery, keep a journal of your progress and save all medical bills. It will be hard for insurers to dispute the cost of your medical care and the length of your recovery when you have documentation.
Partially or Fully Denying Liability
You will be filing a claim with the other driver's insurance company in most car accident cases. However, they may refuse to admit that their client was entirely at fault for the crash. They may insist you contributed to the crash somehow or that there was a third party also responsible. Remember, insurance companies are still businesses with goals to maximize profits wherever possible.
Advising You Not to Hire an Attorney
If all else fails, an insurance representative will try to talk you out of hiring an attorney, often by saying that hiring a lawyer will be expensive. Most personal injury attorneys work on a contingency basis, meaning they only receive a payment if and when you do. Additionally, their pay is in proportion to how much compensation you receive. Ultimately, insurance companies know they will likely have to pay more if you have a lawyer.
Speak to an Experienced Car Accident Attorney in Texas Today
With insurance companies doing everything they can to reduce your claim, it is essential to have an advocate on your side. The Board-Certified Houston car accident attorneys at Sutliff & Stout will always act with your best interests in mind and fight an insurer's attempts to pay out as little as possible. To schedule a free consultation for your Houston crash, call (713) 987-7111 or complete our contact form.