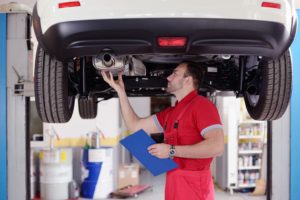 If you drive a car in Houston or anywhere in the state of Texas, it is essential to understand the state car inspection laws. Keeping your car inspection up to date not only keeps you from being pulled over but also protects you and the other drivers on the road from accidents. Drivers with an expired inspection cause many accidents each year. Learning the laws surrounding state inspections can help you stay safe and prevent car accidents.
If you have been hit by a car with an expired state inspection, the best thing you can do is contact an experienced car accident lawyer. An attorney can help ensure you receive a fair settlement for any expenses related to the accident.
We want to help you too.
Submit the short form below to get a free case review.
How to Get Your Car Inspected In Texas
In Texas, you must get your car inspected for safety every year. Having an up-to-date inspection is also required for renewing your vehicle's registration. Not only is this for your safety but for the safety of other drivers on the road.
If you are new to the Lone Star State, you have 30 days from your move date to get your vehicle inspected and registered in Texas. Texas does not accept out-of-state inspections or registrations.
To get your car inspected, you can take it to any Texas Department of Safety (DPS) approved location. Many centers advertise that they provide state inspections on-site and online. To find an approved vehicle inspection location near you, visit the DPS website.
When you get your car inspected, it is essential to bring the following documents with you:
A Photo ID: Make sure you have a current and valid photo ID when you get your car inspected. Both in-state and out-of-state IDs are acceptable.
Valid Proof of Insurance: To get a state inspection, you must provide proof of insurance. Texas only accepts in-state inspections, so it is important to update your policy if you are new to the state.
If you do not have these documents, the inspector is legally required to turn you away.
In the state of Texas, you can get your car inspected up to 90 days before your vehicle's registration expiration.
What is Tested at Texas State Vehicle Inspection?
State inspections tend to take anywhere from 15 to 30 minutes and test the following items:
Car horn
Windshield wipers
Car mirrors
Steering function
Seat belts
Braking system
Car tires
Wheel assembly
Exhaust system and emissions
Headlights
Tail lights
Rear red light reflectors
License plate lamp
Beam indicators
Turn signals
VIN number
Window tint
Gas cap
When you pass your inspection, your results are uploaded to the state's system, and you receive a paper copy for your records. After you pass your inspection, you can renew your registration online or at your county tax office.
Common Reasons to Fail a Texas State Vehicle Inspection
Passing a state inspection is not guaranteed, even if you passed last year. There are several reasons a car might fail inspection. Here are a few of the most common reasons:
Damaged or inoperable windshield wipers
Service or check engine lights
Damaged or burnt-out headlights or tail lights
Parking brake issues
Worn or bald tires
Extra dark window tint
Texas requires that you have any problems with your vehicle fixed within 15 days, or you might incur additional fees. If you fail a car inspection, you can still drive with a failed inspection sticker in Texas, but on certain conditions. You are only supposed to drive the vehicle home or to a repair facility. 
If you fail your state inspection, you will not be able to renew your registration until after you repair the issue preventing your passing. After being told of your failed inspection, you should be given a time frame in which you are expected to have the repair done.
Partner with an Experienced Houston Car Accident Attorney
If you want to learn more about Texas' car inspection laws or file a claim against a negligent driver with an expired inspection, an experienced car accident attorney can help. The personal injury lawyers at Sutliff & Stout are experts in Texas law. They are committed to making sure their clients get the compensation they deserve for their injuries and expenses. Call (713) 987-7111 or fill out our contact form today to schedule a free consultation with our highly qualified and Board-Certified attorneys.
Frequently Asked Questions
Does Texas Have Car Inspections?
At this time, Texas does require all registered vehicles to receive an emissions and safety inspection every year. Texas is one of 11 states that still require annual vehicle safety inspections.
Will a Check Engine Light Fail Inspection in Texas?
Having your check engine light on or notification of maintenance required will fail you on a state inspection. You will need to make the necessary repairs and attempt the inspection again as soon as possible.