Houston, Texas (Nov. 16, 2022) – A local resident is dead and another is in critical condition in the hospital after a house fire occurred in the early morning at a Little York area home.
The home was located in the 10900 block of White Thorn Street near Little York. Officials with the Houston Fire Department said the house was already heavily damaged from the flames when they arrives at 1:30 a.m. Wednesday morning.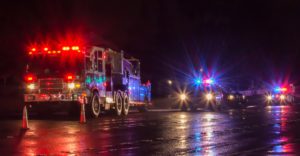 Firefighters found two people inside the home at the time of the fire, one in the hallway and the other in a bedroom near the back of the house. One of the individuals did not survive the fire.
The HFD is still investigating the cause of the fire at this time. A full arson investigation will be needed to determine what caused the fire. The home is considered a total loss. 
Burn Lawyers
In the United States in 2009, thousands of people are killed every year due to some type of fire-related incident and significantly more people sustain burn-related injuries. Many burn injuries and deaths in Houston, Texas are due to the carelessness or recklessness of others.
According to the American Burn Association, burn victims make up over 700,000 trips to the hospital emergency rooms each year and of those visits over 45,000 of those individuals require hospitalization.
If you or your loved one were a victim of a burn injury due to negligence, it's important to contact legal assistance. The aggressive burn injury lawyers at Sutliff & Stout can protect you from further damage. We understand the taxing and tiresome process of healing and you shouldn't suffer through your burn injuries alone. For a free consultation, contact (713) 987-7111 and someone from our firm will be in touch.
Our deepest condolences go out to the families of the victims of this horrible incident. If a family member would like the name of a person removed for any reason, please click the "Remove Post" link. REMOVE POST
Sources: ABC 13