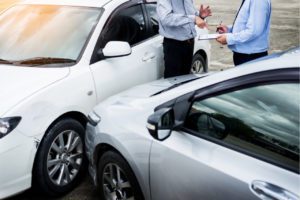 The experience of a car accident can be a traumatic one brimming with questions. After an accident, victims must visit a doctor for medical care, see that their vehicles are repaired, and speak with insurance companies to determine who will pay for the harm caused. One question, that many car accident victims have is how much they can expect from their compensation claim.
There are many variables to be considered when determining the value of your car accident claim. Car insurance companies will review the severity of your injuries, how soon or if you can return to work, and which party is most responsible and at fault for causing the accident, among many other variables. The following text explains in detail the factors which determine how much your car accident claim is worth.
How Does Texas Law Evaluate Who Must Pay for the Damages of a Car Accident?
Because Texas is a comparative fault state, the law dictates that each party is financially responsible for the collision where they're more than 50% at fault. Comparative fault, also known as comparative negligence, is a tort law that allows the parties involved in the accident to compare their levels of liability for causing the accident based on the percentage that the jury or court determines. 
If you're the party with the least amount of fault, then you can sue the liable party for damages to cover medical bills, lost wages, and other costs stemming from the accident. However, if you're awarded financial compensation to cover losses, it will be reduced by your percentage of fault.
For example, if a judge determines that you caused 10% of a car accident and you're awarded $10,000 in damages – then you will only receive $9,000 in damages because 10% of the liability that you hold will be deducted.
Drivers must carry liability car insurance. The minimum level of liability insurance that a driver must take is the following:
$30,000 for each person injured in the accident
$60,000 total to cover both persons injured in the accident
$25,000 in property damage for each accident
While these are the minimum levels of coverage, drivers in Texas can choose to include extra liability insurance if they wish. 
Damages for Medical Expenses
Compensation for medical damages is often the most substantial cost that your claim will cover. That includes all medical expenses since the occurrence of the accident, plus any future medical costs. An experienced personal injury attorney will be able to gather expert opinions to have a good understanding of what those future medical expenses will look like based on your injuries. Examples of medical expenses that you can seek compensation for include the cost of: 
Emergency transportation
Hospitalization
Doctors and medical specialists 
Tests for diagnostics
Surgeries
Physical therapy 
Medication 
Home care
Assistive aids, like a wheelchair
There are many other costs associated with medical expenses that you can include in your claim for coverage. The key is that your claim should cover the costs you've paid now and in the future. 
Damages for Lost Wages
Like damages for medical expenses, damages for lost wages include both what you've lost since the accident, plus what you might lose in the future because of your injuries inflicted from the car accident. Lost wages are more than lost income from work. It can also include lost vacation time, bonuses, commissions, and the loss of your earning capacity. 
Damages for Pain and Suffering 
As with lost wages and medical expenses, damages for pain and suffering include present and future expenses. However, unlike damages for lost wages and medical expenses, it's usually more challenging to estimate the value of pain and suffering. An experienced personal injury attorney with a proven track record of success will be able to assist in determining how much you're likely to receive. 
How do insurers value your car accident claim?
After an insurance provider receives your claim, they will begin by assessing your claimed damages. This includes charges like medical care, income lost, the value of lost social or educational experiences, emotional distress, and of course, property damage. 
All these factors will be key in determining what the insurance provider will offer you initially. The other key point that will determine if your injury is considered "minor" or "major". Most insurance providers equate various injuries or damages with compensation ranges. Your accident's value will vary based on these parameters. 
Whenever you're speaking with insurance companies, it's important to also speak to an experienced car accident lawyer. 
Call Our Texas Car Accident Lawyers to Help with Your Claim 
The implications that a car accident can have on your life can be overwhelming and detrimental to your quality of life. At Sutliff & Stout, our goal is to bring justice to those who have been harmed by the negligence of others. We are board-certified personal injury lawyers who will seek full compensation for your losses and, if need be, take your case to trial to secure the most favorable outcome for you. The board-certified attorneys at Sutliff & Stout are dedicated and aggressive when it comes to fighting for their clients. After a car accident, contact them for a free and confidential consultation on your claim. Fill out an online contact form, call, or text anytime at (281) 853-8446.