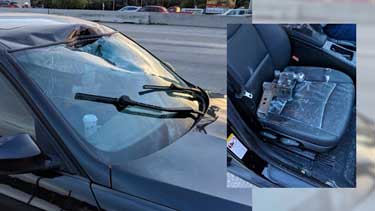 HARRIS COUNTY (October 23, 2018)– An unsecured towing hitch smashed through the window of a vehicle heading southbound on the North Freeway near Spring Cypress Road. Sgt. Ray Parker of the Harris County Sheriff's Office, stated the hitch was picked up by another vehicle that was passing by on the highway. 
Fortunately the passenger seat was empty when the hitch ended up in the seat. There were no wrecks or injuries due to the flying debris.
The Harris County Sheriff's Office has issued a warning to Houston drivers to ensure their hitches, equipment, or debris are properly secured on the vehicle. Debris-related crashes are not uncommon. Last month a piece of pipe went through a driver's windshield. In March 2017, a fatal accident occurred when a large bolt flew through a windshield on Highway 146 in La Porte.
Most debris-related crashes occur on highways where vehicles travel at high speeds. According to the Texas Department of Transportation, from 2012-2015, there were nearly 1,600 crashes and five deaths due to debris falling off vehicles.
If you or a loved one were involved in a car wreck, it is important to contact a legal expert to help you evaluate your options. Call (713) 987-7111 or send us an email to discuss your car accident injury case.
If a family member would like the name of a person removed for any reason, please click the "Remove Post" link. REMOVE POST
Source: KHOU