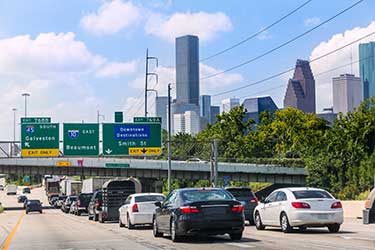 Houston is the 4th largest city in the United States and it continues to grow.  With the rise in population comes an increase in the number of car accidents and trucking collisions.  According to the Houston Chronicle, on an average, there are at least 2,777 car accidents a week. In approximately 40 of those collisions, someone will be seriously injured. In 11 of those crashes, at least one fatality will occur.
Houston also faces a significant problem with drunk driving.  According to the U.S. Census Bureau, Houston leads the nation for fatal crashes involving drugs and alcohol and ranks second in fatal accidents on Federal highways.
While some of the problems can be attributed to our population size, some other factors that contribute to the problem include:
We are a driving city whose citizens love their cars. The average commute in Houston is 29.5 minutes each way which is four minutes higher than the national average. If a driver is spending more time on the road he or she is more likely to be involved in an accident.
Cell phones are becoming a contributing factor to car crashes, injuries, and deaths in Texas. Nearly 40% of all 2016 cell phone-related crashes in Texas occurred in Harris County. Distracted driving has deadly consequences. At 75 mph if you look at your phone for three seconds, you have traveled the length of a football field.  A lot can and does happen when you are looking at your phone and because you are not paying attention you cannot properly react.
Speed.
In 2016, the Texas Department of Transportation reported 987 DUI fatalities, 638 were drunk drivers, 149 were people in cars not driven by drunk drivers, 143 were passengers in cars driven by drunk drivers and 56 were pedestrians or bicyclists.
Car accidents are not isolated incidents. Each time someone speeds focuses on his or her cell phone instead of the road or decides to get behind the wheel after drinking there is an increased chance of someone getting substantially injured or killed on the Houston roadways. While police enforcement can have a positive impact on driving behaviors, the best way to reduce the number of accidents is for each of us to do our part and make good decisions.
If you or a loved one was injured in a car accident, it is important to contact a legal expert to help you evaluate your options. Call (713) 987-7111 or send us an email to discuss your car accident injury case.
Sources: Houston Chronicle
Houston Chronicle: Out of Control
Texas Department of Transportation