San Antonio, TX (11/9/2020) – An infant was seriously injured in a single-vehicle wreck early Monday morning.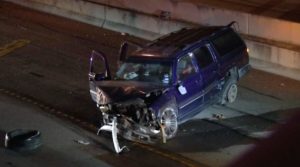 The accident happened on Interstate 10 around 2 a.m. in San Antonio. Justine Garcia, 24, was driving while intoxicated and crashed her Chevrolet Tahoe on I-10. For reasons unknown, the woman cut across all lanes of the highway and slammed into a concrete median.
A 3-month-old baby in the car suffered a fractured skull and a contusion to the head. The baby was rushed by SAFD to the Children's Hospital of San Antonio. It's unknown what type of injuries the woman suffered.
Justine Garcia, 24, has been charged with intoxication assault and marijuana possession following the crash.
Crash investigators will review all factors that may have led up to the accident and police reports will be made available in fourteen days.
Brain Injury Lawyers
As a result of the accident, an infant was left with a severe head injury. Severe head injuries can lead to traumatic brain injuries. While it remains to be seen if the infant suffered a traumatic brain injury, there are many victims out there that do suffer from a traumatic brain injury when they get into car accidents. According to the Centers for Disease and Control Prevention, 1.7 million Americans suffer a traumatic brain injury every year. Tragically, more than 50,000 people die from traumatic brain injuries every year, accounting for more than 30 percent of all injury-related deaths in the United States.
These kinds of injuries can lead up to thousands in personal injury damages. It's important to know your rights and seek compensation following a traumatic brain injury, or any other injury sustained in an accident. Because of the complex legal issues involved in a personal injury lawsuit of this kind, you must hire a lawyer who has extensive experience representing traumatic brain injury victims. Contact our personal injury lawyers in Houston today for a no-cost consultation.
Source: KSAT
Our deepest condolences go out to the families of the victims of this horrible incident. Please click the "Remove Post" link if you would like this post removed. REMOVE POST