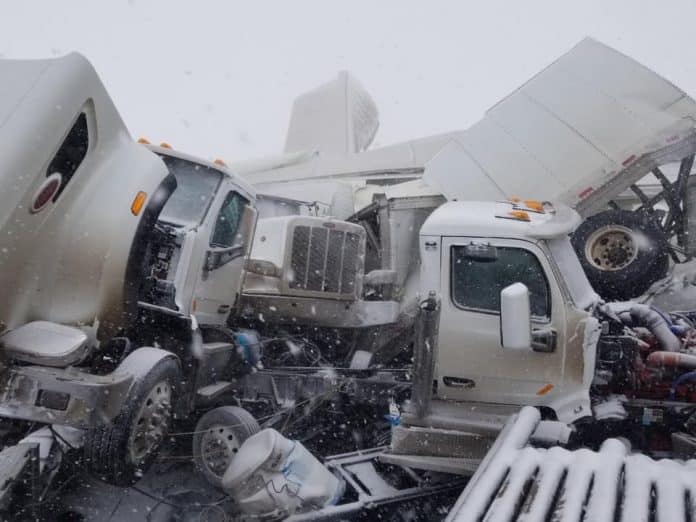 Wamsutter, Wyoming (3/2/2020) – An 18-wheeler jackknifed causing a major collision across Interstate 80 in Wamsutter, Wyoming.
The truck accident happened on Sunday, March 1st on I-80 between Rawlins and Wamsutter. A semi-truck jackknifed across the highway's westbound lanes which caused the pile up of multiple vehicles. A Toyota Highlander was one of the first vehicles to collide with the stopped semi-truck. Afterwards a tractor trailer collided with the Highlander and that tractor trailer was rear-ended by another Freightliner.
The passenger in the Toyota Highlander was identified as Deborah Carrel, 53, of Marshall, Michigan. She passed away.
A commercial tractor towing multiple tractors collided with the pileup of other vehicles. The driver of the tractor has been identified as Emman Ojiaka, 64, of Denton, Texas. He died in the collision.
Kian Kennedy, 27, was another driver of a semi-truck. He died on the scene.
The pileup included at least 50 vehicles with several commercial trucks being involved.
There is no official count on individuals that passed away. Several people received medical attention at Memorial Hospital of Carbon County.
The westbound lanes from Laramie to Wamusutter were closed for approximately 14-16 hours.
Jackknife Accidents
Jackknife accidents occur when a tractor towing a trailer folds resembling the angle of a folding knife. This happens when a truck driver is speeding and slams the brakes while going too fast on a curve or a slippery road. The trailer swings out to the side and causes the tractor to overturn. In this case, the truck driver was operating in severe winter weather conditions It is possible that the truck driver was traveling at a high rate of speed on the icy roads and could not brake in time causing the trailer to cross the westbound lanes.
Truck Accident Lawyers, Sutliff & Stout
In a major collision like this it is very important to hire a truck accident lawyer to represent you if you were injured. Truck accidents can cause catastrophic injuries that require intensive medical treatment.
The family of Deborah Carrel, Emman Ojiaka, Kian Kennedy, or anyone else that may have lost a loved one in this collision has the right to file a wrongful death claim against the insurance company of the truck driver due to his or her negligence. Family members may receive financial compensation for their loss, funeral expenses, lost wages, and emotional distress.
If you or a loved one were involved in a truck accident, it is important to contact a legal expert to help you evaluate your options. Call (713) 987-7111 or send us an email to discuss your car accident injury case.
Source: Casper Star Tribune County 10
Our deepest condolences go out to the families of the victims of this horrible incident. If a family member would like the name of a person removed for any reason, please click the "Remove Post" link. REMOVE POST