Arlington, TX (4/30/2021) – A passenger was killed in a single-vehicle rollover wreck Friday evening.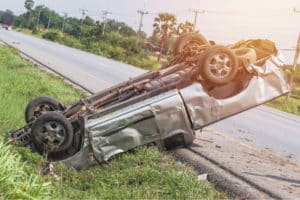 The accident happened around 10:20 p.m. on E. Pioneer Parkway. A pickup truck was headed westbound on Pioneer Parkway when it lost control, left the roadway, and struck a tree in the median.
The impact caused the pickup to rollover, which then killed a 20-year-old woman.
She was a passenger in the truck.
Driver Cristian Vazquez, 22, was arrested and faces one count of Intoxication Manslaughter.
Crash investigators will review all factors that may have led up to the accident and police reports will be made available in fourteen days.
Rollover Crashes
According to the NHTSA, rollover crashes are more likely to result in fatalities than any other types of crashes, and that most fatal rollover crashes are single-vehicle crashes. This type of crash is ultimately due to excessive speeding, alcohol, and other negligent acts the driver may be at-fault for.
As a result of the case above, a passenger was killed as a result of the driver's method of driving. The investigation will reveal exactly why the driver of the pickup lost control.
If you or a loved one were involved in a rollover car accident, it is important to contact a legal expert to help you evaluate your options. Call Houston auto accident attorneys Sutliff & Stout at (713) 405-1263 or send us an email to discuss your car accident injury case.
Source: WFAA