It's no mystery why drunk driving is an even bigger problem than usual over the holidays.
With Super Bowl LIII just under a week away, our Houston auto accident lawyers decided to examine Texas crash data to see whether, and to what extent, there is an increase in drunk driving crashes, injuries, and deaths over Super Bowl Sunday. The results of our research is below.
For complete details on the methodology used to gather and analyze this data, click here.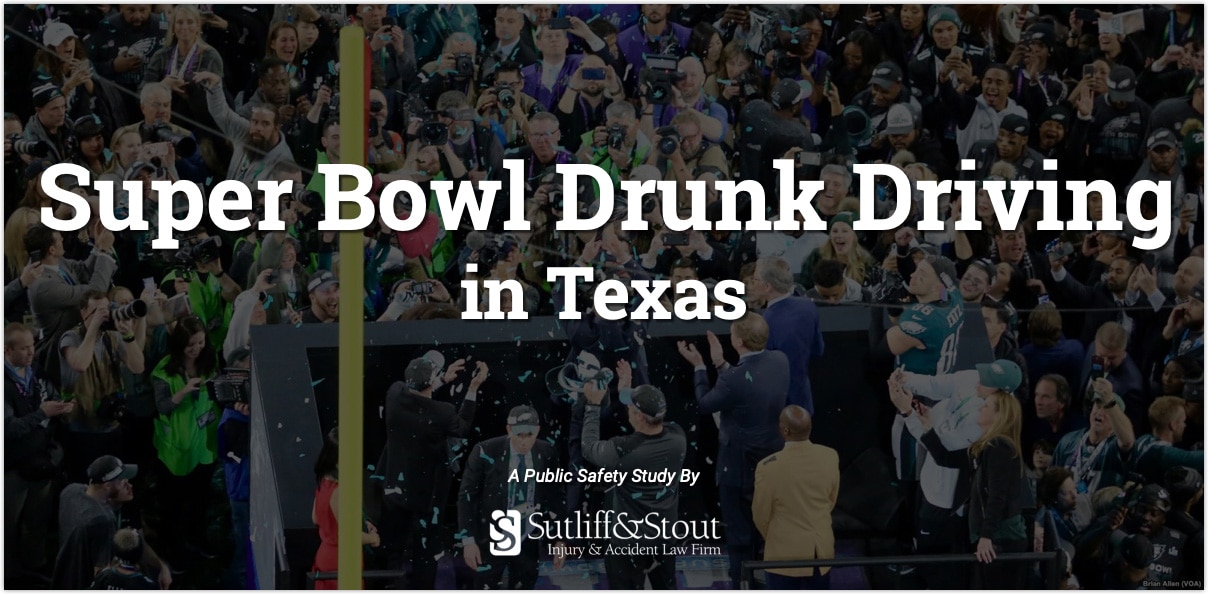 Increases in Texas Drunk Driving Crashes Over Super Bowl Sunday
Analysis of drunk driving crash data from 2014 to 2018 reveals that, during Super Bowl weekend:
Crashes increase by

+17.50%

;
Fatalities increase by

+18.42%

;
Injuries increase by

+13.12%.
The chart below displays the raw counts counts of drunk driving crashes, fatalities, and total injuries from 2014 to 2018 on Super Bowl Sunday:

The point? Don't drive after you've had drinks on Super Bowl Sunday. Get a sober ride instead, on us. Click here to learn how to get your sober ride reimbursed.
---
Methodology
In conducting our study, we used the Texas Department of Transportation definition of alcohol involved crashes, which is a crash where any person reported with a contributing factor of Under the Influence of Alcohol, or Had Been Drinking, or test results with a blood alcohol content of greater than 0.
Using TxDOT CRIS Query System, we gathered crash data from the past five years (2014–2018) for Alcohol Involved Crashes during Super Bowl Sunday. We didn't just look at data from the Sunday of the Super Bowl; rather, we gathered data for both Super Bowl Sunday and the Monday after, until 12pm.
We then gathered the same data for the same period, but for the week before the Super Bowl. This data serves as the control. This allowed us to compare alcohol involved crashes over the Super Bowl period with alcohol involved crashes during a typical non-Super Bowl period.
To determine the percentage change in drunk crashes over the Super Bowl, we used the following formula:
(Super Bowl crashes – Control period crashes) / (Super Bowl crashes) X 100 = % change