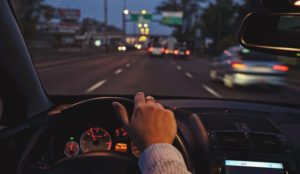 Driving at night can be a challenge for even the most experienced drivers. Lower visibility thanks to the setting sun can create some of the most difficult driving conditions outside of extreme weather. It's common for many drivers to avoid driving at night altogether.
A recent study conducted by The Clunker Junker found that of the ten most dangerous cities to drive through at night, four of them were in Texas. Garland, Corpus Christi, Fort Worth, and San Antonio all made the infamous list. All four Texas cities had 69% or more of their overall crash rates happening at night. Garland took the highest ranking of the bunch (second overall) with 73.12% of the cities' accidents happening at night.
Lowest of the Texas cities was San Antonio (ranked ninth overall) with a percentage of 69.81%.
According to the National Safety Council, the deadliest time to drive across the United States is Saturday Nights. The NSC recommends a few basic steps to help combat the dark setting if you find yourself driving at night including:
Double check that your headlights are clean and aimed in the appropriate direction
Lower the brightness on your dashboard
Do not stare into oncoming lights
If you wear glasses, consider anti-reflective lenses
Make sure to clean your windshield before driving
Slow down. The darker environment means limited visibility and you may need more stopping time
If you find yourself driving at night often, the tips above may seem obvious, but it's important to review the basics from time to time! Additionally, for those driving in the evening times often, we recommend annual vision exams. These basic measures can make a world of difference between you and an accident.
However, what happens when these steps don't prevent an accident and you or someone you love is injured because of someone else's negligence? We highly recommend calling us immediately and speaking with one of our qualified attorneys. With more than 15 years experience, Sutliff & Stout has the expertise that you want on your side during a time of crisis. In our years of practice, we have litigated over countless cases just like this.
Texas Car Accident Lawyers, Sutliff & Stout
At Sutliff & Stout, our Car accident attorneys have the experience and resources to help you and your family during this difficult time. If you were injured or killed during a car accident, call wrongful death attorneys Sutliff & Stout at (713) 987-7111 or send us an email to discuss your case.