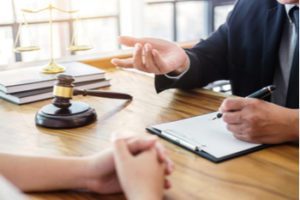 Before deciding to work with a particular personal injury lawyer, you should have a complete understanding of their experience and ability to successfully recover maximum compensation for your injury claim. Asking questions might make you feel uncomfortable, but it's necessary when interviewing potential lawyers to represent your claim. Depending on how qualified your case is, you can hire an accomplished personal injury lawyer at the same rate as an inexperienced lawyer with a lackluster track record.
Asking questions pays off. The following provides five revealing and necessary questions you should ask when interviewing potential personal injury lawyers.
We want to help you too.
Submit the short form below to get a free case review.
1) How long have you worked in personal injury law?
Having a lawyer with a wealth of experience in personal injury law will likely result in a much higher settlement than having an inexperienced one. You want to be confident in your lawyer's ability to form a strong case and offer sound advice on the best strategies for winning the maximum amount. Many lawyers who handle personal injury lawsuits charge similar fees, and most are paid on a contingency basis. An attorney with more experience may lead to a higher settlement.
2) What kind of cases do you handle regularly?
You want to hire a lawyer who specializes in personal injury law with expert knowledge and know-how. Some attorneys are general practitioners who dabble in a variety of civil law ranging from bankruptcy to family law. If your lawyer does not handle personal injury law on a daily basis, you'll be at a disadvantage if you hire them. To get the best results in your injury claim, you want to hire a legal specialist in personal injury who knows the law's intricacies.
3) Will you take my case to trial or settle out of court?
Do not skip this question when interviewing a potential personal injury lawyer to represent your claim. If you want to walk away from your lawsuit with maximum compensation, your lawyer needs to be ready to take your case to court. Some lawyers who advertise heavily and get many clients from those ads settle most cases and outsource their clients to another lawyer should the case go to trial. Through that referral, they receive a percentage of the final lawyer's fee.
If you hire a lawyer who rarely goes to court and settles each time with the insurance company – be willing to accept a considerable reduction in your settlement.
4) Can I see your track record of verdicts & settlements?
The more substantial their list of successful case results, the better it is for you. Many people don't realize that insurance companies who defend personal injury cases understand which attorneys in your region settle or go to trial when necessary. This information is considered in their evaluation of risk. One of the first things the insurance company's claims adjuster wants to know is which lawyer represents your claim.
5) What exactly does "no fee if no recovery" mean?
You'll hear this touted by most personal injury law firms. "No fee if no recovery" can be translated differently for different law firms. The majority of lawyers work on a contingency basis, meaning a portion of the total amount recovered goes to lawyer's fees.
If the lawyer loses your case, you might not have to pay their lawyer fee, but you still have to pay for the expenses associated with it – which can grow to an excessive amount. These expenses include expert witnesses, medical consultants, and other costs that belong to a personal injury lawsuit. Your lawyer might handle the payment for these expenses in a variety of ways, including:
Requiring payment expenses upfront
Charging you for expenses later
Taking out a loan on your behalf
If your case is lost, you want to have an understanding of what happens to expenses. Depending on the firm's methods and resources, some lawyers are more vigorous than others in demanding reimbursement for your case's expenses, and some never hold clients liable for out-of-pocket expenses.
Sutliff & Stout is Houston's Top-Rated Injury Lawyers
If you're in need of a personal injury lawyer in Houston or surrounding areas in Texas – do not settle for an inexperienced lawyer. We are Board Certified by the State of Texas to practice personal injury law, and we are dedicated to securing maximum compensation for each of our clients. Even if we must take your case to trial, we're prepared and ready.
We encourage you to look at hundreds of our positive, 5-star reviews from clients we've helped in the past. Since 2007, Sutliff & Stout personal injury lawyers have remained passionate about getting justice for our clients.