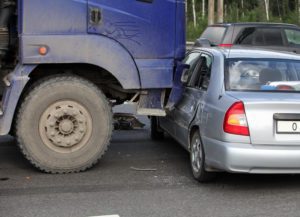 Gonzales County, Texas (July 13, 2022) – Four people are dead, including a woman and child from Lubbock, are dead following a crash that left three others injured.
The initial crash, that occurred when Minnesota resident Wade Francis Slagle failed to control his speed while driving a semi-truck and trailer. The truck collided with Mona Mack Nesbitt who was driving a BMW. Nesbitt had been at a stop due to traffic from a construction zone when Slagle crashed into her.
After colliding with Nesbitt, Slagle's vehicle struck another semi-truck and trailer, driven by Xavier Marquis Gaines of Mississippi. Jose Juan Mosco Barrera of Seccin Mexico, Mexico, was also struck from behind while driving a semi-truck with a trailer.
Also involved in the accident were two other vehicles. Muriel Jean Barnes, who drove a Nissan Kicks SUV, and Rodney Lorin Frazier, who drove a Ford F-150 truck, were struck by debris caused by the crash.
Among those killed were Slagle and his passenger, Christy L. Hoffer of Pennsylvania. Nesbitt and an 11-year-old female were the other two individuals killed in the crash. Another child, a 9-year-old female, was also in Nesbitt's vehicle and was transported to a local hospital for severe injuries.
Gaines and Barnes were also taken to a local hospital for medical treatment. Barrera and Frazier were not injured in the accident. According to the report, everyone involved in the crash had been wearing seat belts, for the exception of Hoffer.
Truck Accident Lawyers
In a major collision like this, it is very important to hire an experienced truck accident lawyer to represent you if you were injured. Truck accidents can cause catastrophic injuries that require intensive medical treatment.
Because of the fatal events of how this wreck evolved, personal injury claims will need to be filed for the victims. Following a fatal car accident, victims and families of victims may find the claim process difficult. More often than not, the insurance claim adjuster will do what they can to make the claims process harder on you to benefit the insurance company. They might try to get you to admit it was your fault or convince you to accept a low-ball settlement. To avoid this frustrating process, contact a personal injury lawyer to file your claim. We're on your side and we will do what we can to make sure you're protected.
If you or a loved one were involved in a truck accident, it is important to contact a legal expert to help you evaluate your options. Call (713) 405-1263 or send us an email to discuss your car accident injury case.
Source: MyPlainview
Our deepest condolences go out to the families of the victims of this horrible incident. Please click the "Remove Post" link if you would like this post removed. REMOVE POST