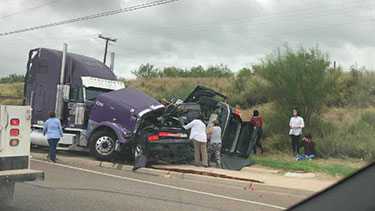 Laredo, TX (September 12, 2019) – A four car crash shut down Loop 20 in Laredo, Texas.
The car accident happened Wednesday around 8:00 a.m. in the 5000 block of Bob Bullock Loop.
An 18-wheeler was traveling south on Bob Bullock Loop when it failed to maintain in a single lane crossed into the northbound lanes and crashed head on with vehicles traveling north.
Jesus Tapia Jr., 60, was driving a Dodge Challenger and died on the scene.
Rosario Cabello, City of Laredo Co-Interim City Manager, and her son were traveling in a Volkswagen SUV. Ms. Cabello and her son were taken to a nearby hospital and are expected to make a full recovery.
An unidentified driver of a green Ford F150 was transported to Laredo Medical Center for treatment. There is no update on the severity of his or her injuries.
Authorities are uncertain why the truck driver veered into the northbound lanes and continue to investigate.
Crash investigators will review all factors that may have led up to the accident and police reports will be made available in fourteen days.
Our hearts and condolences go out to the families. If you or a loved one were involved in a truck accident, it is important to contact a legal expert to help you evaluate your options. Call (713) 987-7111 or send us an email to discuss your car accident injury case.
Source: LMT Online Photo: KGNS.TV
Our deepest condolences go out to the families of the victims of this horrible incident. If a family member would like the name of a person removed for any reason, please click the "Remove Post" link. REMOVE POST