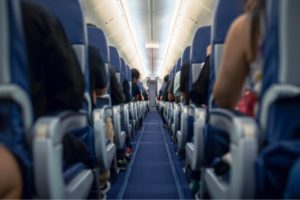 Summertime is here, and for many families in Texas, that means a well-deserved vacation is right around the corner. Considering the COVID-19 crisis that impacted the first half of the year, Houston families are forced to consider what form of transportation is safest for traveling.
There is a variety of transportation options families can choose from in Texas. However, studies indicate that people believe certain forms of transportation pose a higher risk than they truly do. For example, the National Safety Council shows that 38,800 people lost their lives in car accidents in 2019. Yet, car accidents aren't covered as thoroughly in the media so many Americans have long been more fearful of flying than driving. To help Houston families create the safest travel plans this summer, consider the following information.
We want to help you too.
Submit the short form below to get a free case review.
How Safe is Flying Today?
Under normal circumstances, traveling by plane is the safest way to get around. When airplane crashes occur, they receive a high amount of media coverage – which makes the public more fearful of flying.
According to the U.S. National Transportation Safety Board, the survivability rate of an airplane crash is 95.7% when the crash occurs during takeoff or landing. Flying on a commercial plane is the safest while flying in a private aircraft or air taxi is the most dangerous. The Bureau of Aircraft Accidents shows there were 125 aircraft crashes in 2019, a number that's increased modestly from 2017 with a total of 102 crashes. That rate considers aircraft crashes that occur globally and represent a small fraction of car accidents that occur every day.
Even with coronavirus still a threat to public health, commercial airlines are taking strong precautions to ensure social distancing and prevent the spread of the virus by enforcing face mask policies and strict sanitizing procedures. While the risk has decreased, Dr. Henry Wu, a professor of infectious disease medicine at Emory University, warns:
"While traveling in an aircraft, you may be around people from all over the world, whether on the plane or at the airport. There will always be some risk at this point, and it's going to be very difficult to determine how high."
With these considerations in mind, traveling via plane isn't advised at this time. However, once the virus is contained, it will once again be the safest way to get to your vacation destination.
How Safe is Traveling by Train?
The Amtrak train that derailed and wrecked in South Carolina in 2018 called attention to the safety of traveling by train. Since then, public speculation has increased because of the railroad industry's numerous problems being underlined by large print and television coverage. However, traveling by train is mainly safe and a highly reliable way of getting from one state to the next.
The government and the railroad companies oversee the commuter rail industry. Passenger safety is paramount, and special care is given to ensure these railroad accidents rarely occur. When comparing the number of fatalities and personal injuries caused by train accidents, the statistics prove this method of transportation is one of the safest.
How Safe is Driving on the Highway?
Traveling on the highway is extremely dangerous compared to flying and train travel. In Texas, driving on the open road is especially hazardous. According to the Texas Department of Transportation, one person was killed every two hours and 25 minutes in 2018. That amounted to a death toll of 3,639 that year.
Texas is home to many thriving businesses and industries. As a result, most highways are clogged with semi-trucks that make highways more dangerous for passenger vehicles on the road. Texas also has a thriving motorcycle community that often takes the highway. The risks for motorcyclists are particularly high, as these accidents almost always end in severe or fatal injuries.
Dedicated Personal Injury Attorneys in Houston
No matter what method of transportation you wish to take on your vacation, there are always safety risks associated with each one. If you've been injured in an accident in Texas, do not hesitate to contact the personal injury attorneys at Sutliff & Stout. Our lawyers are Board Certified in Personal Injury Trial Law by the Texas Board of Legal Specialization, an accomplishment achieved by less than 7% of Texas lawyers. To schedule a free consultation, complete an online contact form or call (713) 987-7111.