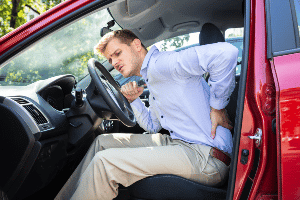 After a minor car accident, you may initially feel fine aside from a few aches and bruises. But the force of your head knocking forward and back during a low impact or low-speed collision can cause severe whiplash that may worsen if not properly treated. It's not uncommon for pain after a car accident to manifest weeks or even months later.
If you're experiencing delayed pain after a car accident in Houston, it is essential to seek medical treatment as soon as possible. After that, contact an experienced personal injury attorney to find out your legal options. At Sutliff & Stout, our Houston car accident lawyers have helped injured victims across Houston recover millions of dollars in compensation after another driver's negligence caused their injuries and losses. To help ensure you are reimbursed for all damages you've sustained in your car accident when injury pain is delayed, consider the guidelines below.
We want to help you too.
Submit the short form below to get a free case review.
What Types of Pain Are Often Delayed After a Car Accident?
While headaches are common for many people, if you're experiencing chronic pain in your head or neck after a car accident, it may indicate a severe injury that wasn't detected at the time of your collision. Whiplash, a common soft-tissue injury in the neck and back for car accident victims, can become agitated and worsen when not treated appropriately.
If you are coping with any of the following kinds of pain after a car accident, even if it's delayed, seek immediate medical care.
Headaches
Keep aware of the pain's intensity and location when you experience headaches. Chronic head pain can indicate various traumas, including whiplash, brain injury, neck injury, a concussion, or a blood clot. Chronic headaches can also be a symptom of post-traumatic stress disorder (PTSD) after a severe car accident.
Numbness and Tingling
If you feel tingling and numbness or find that your arms and legs are weak, you may be suffering from a herniated disc that can press up against or pinch the nerves in the spine. This pressing or pinching in the spine often causes tingling, numbness, pain, or other feelings in the body.
Back Pain
Depending on where you feel the most pain in your back, this can indicate a variety of injuries. Lower back pain often accompanies a whiplash injury. Back pain may also be caused by a herniated disc, sprain, or soft-tissue damage.
Abdominal Pain
If you suffer abdominal pain after a car accident, seek medical attention immediately. If you suffer from an internal, soft-tissue injury, it can become fatal if not treated appropriately. Internal bleeding may also lead to deep bruising, dizziness, and headaches.
Pain in the Shoulders or Neck
Whiplash often causes pain in the shoulders and neck immediately or a short time after a car accident. This type of pain indicates a spinal injury like a herniated disc, so it's best to find out exactly what kind of injury you're dealing with and seek immediate medical care.
Mental Pain and Suffering
After the adrenaline and initial rush after the crash has passed, accident victims may feel depressed, anxious, or other symptoms of post-traumatic stress disorder (PTSD). It may be caused by the accident's shock or the injuries that followed. Mental and emotional pain and shifts in personality may also be a symptom of brain damage.
What Steps Should I Take When Injury Pain is Delayed After My Collision in Houston?
It is critical that you do not sign a release of liability form for settling your claim after your car accident. Doing so will end any potential lawsuit you may file against the negligent party as well as all future claims associated with the accident.
Suppose you sign this form hastily after your collision before receiving a complete medical evaluation. In that case, you may forfeit any compensation for your injuries that may not bother you until weeks later. If you have not signed the liability form release, you may still recover compensation from your delayed car accident injuries. When you see a doctor, have them estimate future medical care costs.
A skilled personal injury lawyer like those at Sutliff & Stout can help secure reimbursement for all current and future medical expenses, lost wages, and pain and suffering that you may experience due to delayed car accident injuries.
Call Skilled Houston Car Accident Attorneys for a Free Case Review
If you recently experienced a car accident in Houston, you may not feel the full effect of the pain from your injuries until many days later. While it's normal to feel anxious about settling your claim with the insurance company, keep in mind that time is in your favor. Under the Texas personal injury statute of limitations, you have two years to file suit for your accident injuries.
At Sutliff & Stout, our car accident attorneys are Board Certified in Personal Injury Trial Law by the Texas Board of Legal Specialization and can review your claim for free. To speak with a knowledgeable personal injury attorney about your car accident, schedule a free consultation today by completing a contact form or calling (713) 987-7111.