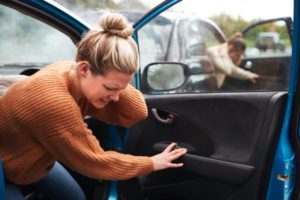 A personal injury accident is a traumatic experience that can leave you reeling for days or even months afterward. There are so many emotions involved after you get hurt that it's easy to feel overwhelmed about what to do next. However, one of the first things you should do afterward is talk to a lawyer. Hiring an attorney after an accident, such as a vehicle or slip-and-fall accident, is not a decision to be taken lightly. It's important to make the decision to hire a lawyer in a timely manner so you can obtain the settlement you deserve and move on with life as you know it. Here, we'll explore a few key indicators that you need a personal injury lawyer after an accident due to the carelessness of another.
Hire a Personal Injury Lawyer if You Sustain Injuries
Injuries are the clearest indication that you need an attorney. Car accident injuries range from minor bumps and bruises to major ailments such as broken bones or even brain damage. Slip-and-fall injuries may involve broken bones and even head trauma. Any you need medical attention for an injury, medical bills pile up quickly and the cost of recovery can overwhelm you. 
An experienced accident attorney can help you recover the cost of:
Medical bills
Rehabilitation
Medical equipment
Lost wages
Future loss of wages
Pain and suffering
…and more
Knowledgeable personal injury attorneys, such as those with Sutliff & Stout, will take the time to sit down and familiarize themselves with you and your case. They will investigate the details surrounding your accident, determine who is liable, and calculate the settlement you're entitled to according to the law. 
Hire a Lawyer When You Weren't At Fault 
One of the most important realizations after an accident caused by negligence is that you don't have to bear the burden of that negligence alone. All parties must exercise a degree of responsibility referred to as the duty of care. That means when a person gets behind the wheel they take responsibility to act appropriately and to avoid causing injury to other people at all costs. When a driver violates the standard of care, the person is responsible for the resulting damage caused. 
Assuming you can demonstrate that your injuries were caused by the carelessness of another, you may be entitled to compensation for the pain and suffering you endured in addition to other damages like medical bills and lost wages. Typically, all of these costs are absorbed by the at-fault party's insurance company. A trusted attorney will lead the negotiation process with the other party's insurance company so you can walk away with the financial compensation you deserve.
You Need a Personal Injury Lawyer in a Wrongful Death Case
Negligence contributes to thousands of deaths each year. Any time a loved one dies as the result of a car accident, you need an attorney on your side. Depending on the circumstances surrounding the accident, you and your family may be entitled to compensation that covers the cost of your loved one's medical bills and funeral costs. Furthermore, you could also receive compensation for loss of companionship and loss of inheritance. A knowledgeable wrongful death attorney will walk you through the entire claims process to help you understand how the process works and the types of compensation you will be entitled to seek under the law and how they plan to fight for you.
Knowledgeable Personal Injury Lawyers Fighting for You
In Houston, a top source of legal representation for personal injury cases is the Sutliff & Stout Injury and Accident Law Firm. Our board-certified attorneys are dedicated to providing competent legal representation and will fight for you and your family tirelessly. We have won millions of dollars in settlements for individuals just like you across the state of Texas.
Our lawyers are board-certified personal injury lawyers who are dedicated to protecting the rights of those whose lives have changed because of an injury caused by negligence.  We are members of the Houston Bar Association and have extensive experience resolving a wide variety of personal injury claims.
For a free consultation, call or text 281-853-8446 or contact us online.