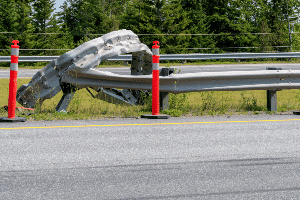 Inadequately maintained or designed roadways can cause a serious or deadly car accident in Texas. In a report released by the National Highway Traffic Safety Administration (NHTSA), it was found that 52,000 accidents in the U.S. were due to environmental factors, such as weather conditions, vision obstructions, road design, traffic signage, and slick roads.

Road hazards are far too common on Texas roadways and result in significant damages for accident victims—property damage only being a sliver of the consequences. Often, sudden road hazards can cause drivers to lose control of their vehicle and slam into passenger vehicles, pedestrians, or fixed structures. It's imperative to be aware of common roadway hazards and who may be held liable for them in Texas.
We want to help you too.
Submit the short form below to get a free case review.
Common Roadway Hazards in Texas
Driving can be a relatively simple task when road conditions are adequate and drivers follow the law. Unfortunately, neither of these elements is guaranteed. Whether through faultily-designed or poorly-maintained roads, road hazards can impact motorists' ability to drive safely. Some common roadway hazards in Texas include:
Steep pavement drop-offs
Poor grading and drainage
Unexpected sharp curves
Narrow lanes
Potholes and pavement cracks
Debris
Damaged or missing guardrails
Inadequate or non-visible road signage
Construction
Light malfunctions
While some hazards like weather and animals on the road are unavoidable, most, if not all, of the above threats are preventable. Drivers should always use caution to prepare for potential roadway hazards. However, even when drivers exercise caution behind the wheel, some situations are hard to avoid.
Who Is Responsible for Roadway Maintenance in Texas?
Liability for accidents caused by road hazards in Texas depends on who is responsible for maintaining the road where the accident occurred. Roadway safety typically falls under the responsibility of federal, state, and local governments. In some instances, third-party contractors or private companies employed by the government may be potentially liable for your injuries. Or, if your accident took place on a privately owned road or parking lot, the property owner and their employees may be liable.
Government officials, contractors, and private property owners usually have comprehensive insurance coverages and policies intact to protect them in cases as such. A knowledgeable personal injury attorney can help investigate the at-fault party or parties and ensure that you are taking appropriate steps to protect your rights.
What Evidence Is Needed to Prove Road Hazards?
In any car accident case, sufficient evidence is needed to prove fault. In car accidents involving road hazards, evidence is everything. It's imperative that you begin collecting evidence immediately before it disappears or changes. Depending on the road hazard relevant to your case, certain pieces of evidence will be needed to prove liability. General evidence that may benefit your case includes:
Photographs of the scene
Video surveillance, if applicable
Local weather reports
Original roadway blueprints
Measurements and diagrams of the accident scene
Operations and roadway maintenance schedules
History of roadway complaints
Documentation of roadway construction projects and schedules
Get Help from Experienced Car Accident Attorneys in Texas
Sutliff & Stout has been committed to effectively representing those injured in car accidents through the negligence of others for decades. Our goal is to help you recover full monetary compensation for the injuries you've suffered in a Texas car accident, whether through road hazards or reckless drivers. We take our responsibility to the law and our clients seriously, and we stand strong against those who deny their wrongdoing that brought you harm.
The Board-Certified personal injury and car accident attorneys at Sutliff & Stout have tried and settled many car accident disputes in Texas, both in and out of the courtroom. We have the experience, knowledge, and drive to uphold your rights and achieve favorable results on your behalf. Access to competent legal representation is a fundamental right, and we're here to help. Call (713) 987-7111 or complete our contact form today for your free, no-obligation case review with a Board-Certified attorney.