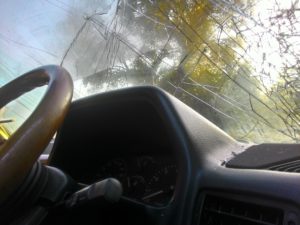 Houston, TX (May 17, 2019) – A crash investigation was interrupted by a woman driving through the scene of a fatal accident in northwest Harris County.
A car accident happened Thursday at 10:30 p.m. between a silver Jeep Liberty and a motorcycle. The Jeep was heading eastbound on West FM 1960 near Perry.
The motorcycle was traveling westbound, when the Jeep made a U-turn into the westbound lanes, without failing to yield the right of way, and collided with the motorcycle.
The motorcycle rider wasn't wearing a helmet and was pronounced dead at the scene.
The Jeep driver was taken to the hospital with minor injuries. Authorities are working to determine if speed was a factor in the crash.
During the crash investigation, a woman driving a white BMW with two kids drove around the barricade and into the crash scene. Authorities stopped her near Salon Street. She was transported by ambulance to a local hospital for evaluation.
The children were taken into custody by the Harris County Sheriff's Office until they determine who can take custody of them.
The woman has been charged with evading and could face a possible DWI, DWI with a child, and child endangerment.
If you or a loved one were involved in a car accident, it is important to contact a legal expert to help you evaluate your options. Call (713) 987-7111 or send us an email to discuss your car accident injury case.
Source: Click 2 Houston