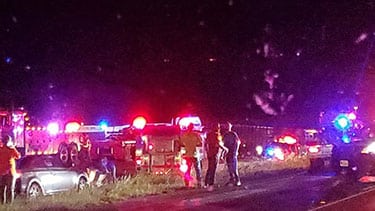 Eastland, TX (September 16, 2019) – Two tractor trailers and two motor vehicles caused a major accident on I-20. One driver lost his life while three drivers and one passenger were seriously injured.
The multiple car accident happened Wednesday, September 11th around 9:00 p.m. near Eastland, Texas. According to the Texas DPS, all vehicles were headed westbound on I-20.
Alex Roddy was driving a 2016 Freightliner tractor towing a semi-trailer struck a 2007 Scion driven by Wesley Cade Rasbury. Both drivers lost control of their vehicle and landed in a ditch. The semi-trailer overturned and ended up blocking both westbound lanes of I-20. 
Oronoa Cruz, Jr. was driving a 2018 Chevy pickup truck with a woman passenger, Kristi Cruz, collided into the overturned 18-wheeler. Shortly after, Mr. Cruz's truck was hit by Juan Rene Sanchez-Sorola, who was driving a 2010 Kenworth tractor trailer.
Mr. Sorola, 27, was from Pesqueria, Mexico, died from the collision.
Mr. Roddy, 60, from El Paso; Mr. Rasbury, 19, from Chatham, Louisiana; and Mr. Cruz and Kristi Cruz, 43, from Fort Worth were seriously injured and taken to Eastland Memorial Hospital.
Crash investigators will review all factors concerning the collision and police reports will be made available in fourteen days.
Our hearts and condolences go out to the families. If you or a loved one were involved in a truck accident, it is important to contact a legal expert to help you evaluate your options. Call (713) 987-7111 or send us an email to discuss your car accident injury case.
Source: San Angelo Live and KTXS
Our deepest condolences go out to the families of the victims of this horrible incident. If a family member would like the name of a person removed for any reason, please click the "Remove Post" link. REMOVE POST