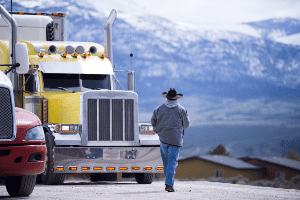 Trucking companies have a series of rules in place to ensure the safety of their employees while they are driving. These regulations help mitigate the risk of accidents while on the road and can ultimately save a driver's life.
However, there are times when a driver might fail to adhere to these rules, which can put them and others at risk. Here are some of the more common regulations ignored by truck drivers that often lead to accidents and why it is important to adhere to them.
Hours of Service Regulation
Among the rules established by the Federal Motor Carrier Safety Administration (FMCSA), the hours of service regulation are among the most important. The guidelines require that drivers who are on the road for longer than a predesignated period after their last record of being off-duty must rest and ensure that it is inscribed in their logbook. This rule is in place to reduce driver fatigue, which is a prevalent issue among commercial and noncommercial truck drivers.
Ignoring FMCSA's suggested hours of service can lead to fees of up to $16,000 being levied against drivers or companies. Failure to comply with this particular regulation can create problems much worse than fees, however, as drivers on the road who are experiencing exhaustion are more likely to cause accidents.
Drivers should adhere to the 14-hour window rule and the 11-hour rule, which state that anyone operating a truck should not be on duty for more than 14 hours and should not be driving for more than 11 hours. For any passenger-carrying drivers, this rule means they cannot exceed 10 hours of driving after eight hours of consecutive off-duty hours unless an emergency order has been issued.
We want to help you too.
Submit the short form below to get a free case review.
Safe Driving Practices
Although it may seem obvious, sections 392.5 and 392.6 of the FMCSA regulations prohibit truck drivers from operating their vehicles while under the influence of drugs or alcohol in addition to requiring them to adhere to posted speed limits. These rules are vital to the safety of hired drivers and the vehicles around them.
Perhaps one of the most important safe driving practices is to drive sober and alert. The FMCSA set regulations that state that drivers may not have alcohol or drugs in their systems. This is another rule that ensures the safety of the driver and the other vehicles on the road, as anyone operating under the influence is both a risk and a liability. If any driver is tested and found to be impaired by drugs or alcohol, they might not be permitted to return to work.
Speeding also greatly increases the risk of an accident involving an injury or fatality. When truckers speed, they put themselves and others at risk. Commonly, some truck drivers may travel anywhere from 6 to 10 miles per hour over the speed limit while on-duty, and though this amount may seem minuscule, the size and low level of control that trucks possess make it hazardous to speed. Not operating a vehicle within the speed limit is dangerous, especially to truck drivers with vehicles that are carrying heavier loads.
Vehicle Preparedness and Precautions
Although some regulations sound like common sense, they set a precedent for proper behavior while operating a truck on the road. One of the most obvious yet imperative regulations is the requirement that all drivers wear their seat belts. Not all states have the same seat belt regulations, but this rule by FMCSA unifies the safety of all drivers, regardless of where they operate.
Another important aspect of preventing accidents while driving a truck is adhering to the regulations for routine safety inspections. This can include:
Checking that tire tread is consistent and not worn down
Ensuring that windshield wipers are intact and operational
Monitoring headlights, lamps, and brake lights
Checking that brake lines and horns are functioning properly
While these seem like common practices for anyone who operates a vehicle, truck drivers must adhere to these inspections by law. Failure to comply with the regulation for safety inspections can create dangerous driving conditions.
Experienced Truck Accident Attorneys in Texas
There are many ways that accidents can occur behind the wheel of a truck. If you have recently been involved in an incident, you need a law firm that will work with you to get the best results. At the offices of Sutliff & Stout, our team of professionals will work with you to help build your case and get the justice that you deserve.
Contact the trusted attorneys at Sutliff & Stout today for a free evaluation of your case by calling (713) 987-7111 or reaching out to us online. Our law firm will fight for you every step of the way