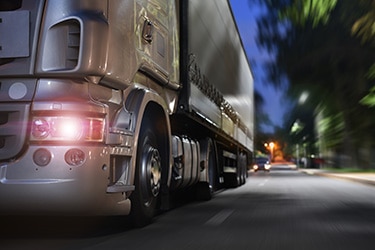 Three people died in a fiery crash involving an 18-wheeler on Interstate 30 in East Dallas.
The truck accident happened Wednesday morning around 2:20 a.m. on eastbound I-30 at Lawnview Avenue. According to the Dallas County Sheriff's Department, they believe the car was traveling at 100 mph when it hit the center median, collided into the back of the 18-wheeler and then caught fire. The truck driver lost control, struck a concrete barrier and overturned which caused a fuel spill.
Authorities confirmed that two unidentified men and one unidentified woman who died in the collision. Dallas County Sheriff's Office hauled the car to the Dallas Medical Examiner's Office for processing and identification.
Two people in the 18-wheeler suffered from minor injuries.
Crash investigators will review all factors that may have led up to the accident and police reports will be made available in ten days.
If you or a loved one were involved in a truck accident, it is important to contact a legal expert to help you evaluate your options. Call (713) 987-7111 or send us an email to discuss your car accident injury case.
If a family member would like the name of a person removed for any reason, please click the "Remove Post" link. REMOVE POST
Source: CBS DFW