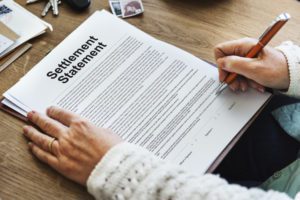 The first thing most people do after a car accident is file an insurance claim. If you carry a car insurance policy with collision coverage, it will cover the cost of property damage to your vehicle. However, if the car accident you were involved in was the result of another person's negligence, they're liable for the financial burden associated with your accident.
In addition to the cost of property damage, many car accident victims also receive compensation for medical bills, lost wages, lost earning potential and pain and suffering; this compensation is called a settlement. If you've been involved in a car accident, it's crucial to never accept the first settlement offer. Here, we'll discuss three reasons why you should fight for maximum compensation and hire a personal injury attorney instead of accepting the first settlement offer from the other driver's insurance company.
We want to help you too.
Submit the short form below to get a free case review.
The Insurance Adjuster is Working for the Insurance Company
The first reason why you should never accept the first settlement offer from the other party's insurance company is that they're not working for you. Following a car accident, you will be contacted by an adjuster who will give you an initial offer. It's in the best interest of the insurance company to make that offer as low as possible. The insurance adjuster you speak to who offers you the settlement will not inform you that the offer is low. Instead, they will make it sound as if they've done everything in their power to get you the compensation you deserve. That is likely not the case.
You Might Be Entitled to Additional Compensation
The first offer from an insurance company will usually come quickly after you file your claim. In the first offer, they will likely tell you the best they can offer you is the limits of the insurance policy; yet, that is not the case. If the cost of the medical bills from your accident and your pain and suffering is higher than the limits of the insurance policy, you can fight for compensation. Likewise, if the insurance company offers you a settlement while you're still receiving medical treatment, it's in your best interest not to settle until you know the extent of the financial damage.
Once You've Accepted, the Offer Is Final
As soon as you sign on the dotted line for an insurance offer, that offer is final and you can't receive additional compensation. Therefore, it's in your best interest to make sure you're getting the settlement you deserve before you agree to the terms. The best way to ensure you're getting the most you deserve for your injuries is to hire an attorney with experience fighting car accident claims. They understand the process and the tactics of insurance companies and will work to create a strong case in your favor.
If you have been injured in a car accident, it's always a good idea to walk into any conversation with an insurance company with your guard up. Most likely, they do not have your best interest in mind and want to settle low to save the company money.
Hire a Trustworthy Texas Car Accident Attorney
In Texas, Sutliff & Stout is a reputable law firm that focuses exclusively on helping injured parties. We operate under the belief that every person is entitled to competent legal representation. When you choose to work with us, we will take the time to get to know you and your situation on a personal level so we can build a strong case that wins you maximum compensation.
Our law firm is recognized by Texas Super Lawyers and is led by board-certified personal injury lawyers. We have won thousands of clients across the state millions of dollars in settlements and we won't stop there. To schedule your free consultation, call our office at 281-853-8446 or contact us online today. We're here for you.