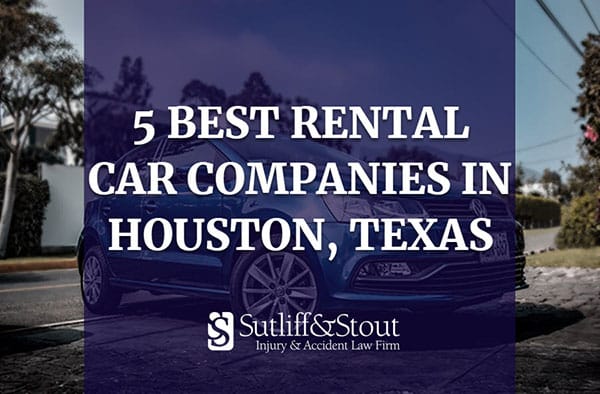 So you've found the right repair company for you after your accident.
You've done your research and received your quote, you've even handed it over to the repair shop, but now what are you going to do?
You don't have a car and you have work tomorrow and other places you need to go between now and then.
After an accident it can take weeks, or even months, for your car to be repaired.
Without your car these things are virtually impossible. To make your life a little bit easier, we've done the research for you and found the top rated rental companies in Houston, TX.
These companies are there to help not only for a vacation getaway but also for long term rentals when something unexpected happens.
[mid_cta]
The 5 Best Rental Car Companies in Houston
[one_half]
Enterprise Rent-A-Car
3433 Gulf Fwy, Houston, TX 77003

As one of America's most prominent rental companies, Enterprise has the experience of 60 years behind them. They are ready to help their customers by working with most insurance companies to give lower rates and picking you up and dropping you off at the repair shop. Visit their website.

---
Mike Calvert Toyota, Toyota Rent-A-Car Houston

2333 South Loop West, Houston, TX 77054

With a large selection of cars and a great variety of reviews, Mike Calvert Toyota is a great place to not just get your car fixed but also get a rental while your car is in the shop. Read more here.

---
Fifth Rent-A-Car

11221 Katy Freeway, Suite 207 Houston, TX 77079

At Fifth Rent-A-Car you can count on their team to treat you like family. Founded in 2002 they've built their business on trust and integrity to make sure the customer comes first. They have great customer reviews, a large selection of vehicles, and they take many different methods of payment. Learn more.
---
Hertz
(800)582-7499 Locations May Vary

Hertz has been around long enough to know that accidents happen. When you have a car accident and are in need of a vehicle right away, Hertz is there to help you get back on the road. According to their website they are the premier provider for replacement cars. Find out more.
---
Avis

1-800-524-9000 Locations May Vary

While Avis doesn't have a specific area for accidents they do offer long term rentals. Their customer service will be ready to help with any questions you might have and with their convenient pick up and drop off locations they'll have you back on the road in no time. Find out more on their website.
---
Contact Sutliff & Stout Injury & Accident Law Firm About Your Accident
We hope that this short list helps you get back on the road after your accident. In case you missed it, we posted about the top 10 auto repair shops in Houston. Head on over to that post if you need any more help.
We know this can be a hard time and Sutliff & Stout are there to make sure it goes smoothly. If you've been injured in an accident, call us and we'd be happy to give your case a free evaluation.