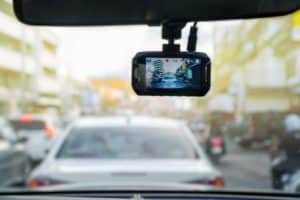 There's a high probability that you have had more than one friend or family member suggest that you should purchase a dash cam. Dash cams are becoming more and more common on the road, and if you don't have one yet, we think it might be time you consider getting one.
Dash cams are small cameras that get mounted to the dashboard of your car. Their primary function is to record the road ahead of you, but these little cameras can also act as your guardian on the road. Dashboard cameras may not be able to prevent an accident, but in the event someone crashes into your vehicle, you'll wish you had one installed.
We want to help you too.
Submit the short form below to get a free case review.
Why You Need to Get a Dash Cam for Your Vehicle
Some say that dash cams are an essential accessory that should be outfitted in every car and we agree. These days, there are too many benefits to having a dash cam to not own one. If you drive, it might be time to make the investment.
Dash Cams Provide Indisputable Evidence
In 2019 alone, over 250,000 people were injured in motor vehicle accidents in Texas. If these crashes had been caught on camera with a dash cam, it would be much easier to hold at-fault parties accountable for any property damage or injuries sustained. Road rage incidents, reckless driving, and attempts of insurance fraud are also easier to prove in court when a recording is provided.
A Dash Cam Will Encourage You to Drive More Safely
When drivers know that all of their moves are being recorded, they tend to drive more safely than they would normally. Some dash cam models can also notify you of any upcoming speed traps and traffic cameras, or even warn you when you start to depart from your lane, reducing the risk of collision.
Having a Dash Cam Can Reduce Your Insurance Premium
Some car insurance companies are starting to see benefits in dashboard-mounted cameras. It turns out that not only do they encourage safer driving and reduce the number of claims filed, but having first-hand evidence also makes their jobs a little easier. Check with your insurer to see if they offer any discounts for having a dash cam installed.
Dash Cams Make It Easier to Challenge Speeding Tickets
If you have ever been pulled over for a traffic violation that you didn't commit, you may know how difficult it is to prove your innocence when it's your word against the word of a police officer. However, if you were able to record the incident with a dash cam, you could prevent yourself from accruing points on your driving record or having to pay for a bogus citation.
Getting a Dash Cam Could Save You Thousands of Dollars
These days, you can get a dash cam with high-quality video for less than $100. This investment is negligible in comparison to the thousands of dollars it could save you in costs like vehicle repairs, medical bills, and court fees should you experience an accident due to the negligence of another person.
Protect Yourself from the Unexpected with a Dash Cam
If you've made your way around the internet, there's a good chance you've come across some dash cam videos that depict all sorts of outrageous incidents. The drivers that record these videos probably left their homes that day completely unaware of what they would encounter on the road. Don't wait until the unexpected happens to purchase your dash cam. It's always better to have a dash cam and not need it than to need one and not have it.
Recover Compensation with an Experienced Car Accident Attorney in Texas
If you were the victim of a car accident in Texas, there is no better team to work with than Sutliff & Stout. Listed as one of the best car accident law firms in the state, we are here to help you navigate the legal process from start to finish and right the wrongs that have been committed. Our car accident attorneys have navigated Texas car accident law and recovered hundreds of millions of dollars for our clients to recover lost wages, pay medical bills, and repair any damages.
We work on a contingency basis, meaning you don't pay us unless we recover money for you. See why thousands of Texans recommend our Board-Certified lawyers and choose to partner with us over other Houston law firms. If you were in a Houston, Texas car accident, call 713-987-7111 or submit an online contact form for a free, no-obligation review of your case.