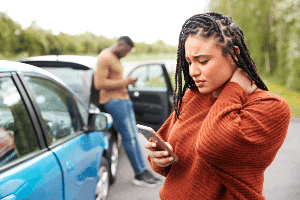 If you've been in a car accident in Houston, your top priority is to seek medical help. After receiving the necessary treatment for your injuries, consider contacting a personal injury attorney about filing a claim. If another driver's negligence caused your car accident injuries, they should be held fully accountable for the damages you sustained. An experienced injury attorney, like those at Sutliff & Stout, can help you recover full and fair compensation for your losses. However, you must be aware of, and avoid, the costly mistakes that could ruin your car accident case in Houston. Often, car accident victims don't realize their actions may cost them a favorable case outcome.
If you've suffered because of a car accident in Houston, avoid these damaging five mistakes.
We want to help you too.
Submit the short form below to get a free case review.
1. Seeking Medical Attention After It's Too Late
Seeking medical attention in a reasonable amount of time after your car accident is essential for a successful car accident case. When you receive medical attention immediately after a collision, you gain valuable insight into the extent of your injuries and the best way to treat them throughout the healing process.
That will also protect your case from the opposing party's claims that the accident did not cause your injuries. The doctor's report you receive after seeking medical attention will provide invaluable evidence that your injuries were truly caused by the car accident and will strengthen your claim.
2. Failing to Complete Ongoing Medical Treatment
As a general rule, the more medical treatment your injuries require, the higher your case's value. While it may be time-consuming and often inconvenient to make all of your appointments for physical therapy, chiropractic treatments, or scheduled checkups, they are essential for more reasons than one.
Receiving all recommended and ongoing treatment allows you to fully recover from your injuries as well as provide evidence in your case showing the extent of your car accident injuries. You should be compensated for all costs related to medical treatments, in addition to the pain and suffering these injuries caused.
3. Not Disclosing Prior Injuries and Accidents
When your doctor or attorney asks whether you've experienced prior injuries or accidents, you must be transparent and disclose this information. You may believe that pre-existing conditions will negatively affect your car accident case, but that couldn't be further from the truth. In some instances, pre-existing conditions benefit a car accident case.
Disclosing this information will help your doctor sufficiently treat your injuries and may help your attorney make a stronger case in your defense. If you make the mistake of failing to disclose this information to your attorney or doctor and the opposing party finds out about it, you could ruin your car accident case.
4. Posting About Your Case on Social Media
This mistake has cost countless car accident victims in Houston from reaching a favorable settlement or verdict on their injury claims. Regardless of whether your social accounts are private, do not post on any platforms about your injuries, the accident case, or your activities. A seemingly innocent post to your followers can be misconstrued by the other party and ruin your car accident case.
Prevent this from happening and avoid posting photos or information about yourself until your case is settled or closed. If possible, avoid social media altogether until your case is behind you as one post can be a devastating mistake.
5. Refusing to Hire a Car Accident Lawyer
If you've been in a car accident in Houston, the most advantageous step you can take is hiring a car accident lawyer. At Sutliff & Stout, our injury attorneys are committed to securing full and favorable compensation for our clients that goes much further than what insurance companies may offer. You and your family deserve the best. We are committed to securing financial compensation that will cover medical costs, future medical costs, property damage, pain and suffering, and much more so that you can focus on your recovery.
Insurance companies will offer you the minimum payment possible that may not cover your medical treatments and future losses. Settling with an insurance company without a skilled attorney on your side is the greatest mistake that can ruin your Houston car accident claim.
Contact Seasoned Houston Car Accident Attorneys for a Free Consultation
If you avoid these five mistakes after a Houston car accident, you are well on your way to gaining the financial compensation you deserve for the damages you've incurred. At Sutliff & Stout, our car accident attorneys have helped countless accident victims in Houston secure millions of dollars in compensation for their injuries and losses. Attorneys Hank Stout and Graham Sutliff are both Board-Certified Personal Injury Attorneys, an accomplishment that few lawyers can claim in Texas. We believe that access to competent legal representation is a fundamental right, and if another party's carelessness has injured you, we want to help.
To speak with an experienced car accident lawyer at Sutliff & Stout about your case, schedule a free consultation by completing a contact form or calling (713) 987-7111.