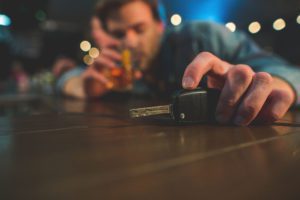 When you're spending some time with friends or going out on a date, you may have some drinks. While having fun is normal and safe, driving under the influence is extremely dangerous to everyone around you. Whether drinks were in the plan or it was an unexpected treat, protecting yourself and others by not driving will save you from life-threatening injuries and financial losses due to medical fees and damaged possessions.
If someone decides to drive under the influence and causes an accident or is pulled over, the penalties that person may face are severe. There are many ways to save yourself from making a mistake that could uproot your life, but if you do find yourself in an accident because of drunk driving, contact an experienced Houston car accident attorney immediately.
We want to help you too.
Submit the short form below to get a free case review.
5 Ways to Avoid Drinking and Driving in Texas
At adult social gatherings, more often than not, there will be alcohol involved. There's no shame in having some fun with people you trust but keeping yourself and others safe by drinking responsibly is extremely important. Consider the following tips on how you can reduce the risk of drinking and driving:
Pick a Designated Driver
If you're planning a night out on the town, pick one person out of the friend group who is responsible and not tempted to drink for the night. If your group of friends regularly go out drinking, have a rotation of who will be the designated driver.
Phone a Friend or an Uber
If you don't have a designated driver, consider calling a friend or an Uber. There's no shame in calling someone you care about to come pick you up if you're too intoxicated. No matter the time of night, your friend would rather pick you up than get a call from someone with bad news. Your safety is important, so call someone if you need help getting home.
Watch the Clock
If you're planning on driving home, set a specific time to stop drinking. Let whoever you're with know when you will need to stop drinking to hold yourself accountable. You might even want to set an alarm on your phone so that there's a reminder when the time comes to start sobering up.
Grab a Bite to Eat
Drinking on an empty stomach can cause the alcohol to absorb into your bloodstream faster, and you'll feel the effects of the alcohol harder. To slow down the process, try eating foods high in fats, protein, and carbohydrates. Some great foods include eggs, meat, and yogurt. If you're at a bar, consider high-carb bar food such as fries or bread.
Never Drink Alone
When we drink alone, we're more likely to take risks and put ourselves in danger. Drinking alone can make us believe that we're sober when, in reality, we're unfit to drive. If you're going out alone to drink, let the bartender know to take your keys or call a close friend if you're too intoxicated.
How Can I Avoid Drunk Driving Accidents?
Sometimes, we might not be the ones drinking and driving, but someone else is. If you suspect someone is under the influence while driving, make sure to notify law enforcement and follow some of the tips below to reduce the risk of getting into an accident:
Maintain a safe distance
Avoid driving late at night
Pay close attention at intersections
Be the designated driver
An encounter with a driver under the influence of alcohol is frightening and sometimes unavoidable, but taking extra precautions to protect yourself and the other drivers is vital. If you're in an accident because of someone drinking and driving, seek guidance from a skilled car accident attorney.
Trust The Experienced Car Accident Attorneys at Sutliff & Stout
At Sutliff & Stout, our Houston car accident lawyers understand car accidents are frightening and dangerous experiences. We help our clients receive just and fair compensation for their injuries and expenses. Our team of Board-Certified personal injury attorneys dedicate their knowledge to advocating for your rights and intentions.
For more information about how our expert attorneys can help you or for a free consultation, fill out our online contact form or call (713) 987-7111.