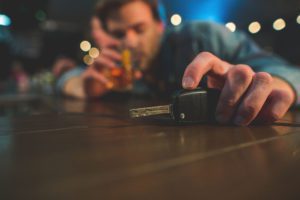 If you're a parent of a teenager, this time of year is filled with celebrations as your teen sets out on the next chapter of their life. Whether they are off to college, jumping into the workforce, or taking some time to enjoy their summer and travel, one thing is certain: they probably have a slew of graduation parties on their calendar. With graduation party season kicking off, it is crucial to make sure that your teen knows how to remain safe on the road.
The personal injury attorneys at Sutliff & Stout know how important it is to keep your child safe, so they have put together a list of the best tips to help keep your kids safe on the road this summer.
Educate Your Teen on the Dangers of Driving Under the Influence
With 19.7% of underaged people between the ages of 12 and 20 saying they have had alcohol, it is not unthinkable that your graduate may consume alcohol at a graduation party this summer. Unfortunately, no matter how well you have prepared your child to resist the urge to drink underage, they may succumb to the peer pressure of being surrounded by their fellow graduates at the party.
Remind your teen driver that having even one drink is too many if they plan to operate a vehicle. Educate them on the danger they pose to themselves and others if they choose to drive under the influence. Let them know that they should call you or another adult to pick them up if they find themselves in a situation where they cannot drive.
We want to help you too.
Submit the short form below to get a free case review.
Distracted Driving Is Extremely Dangerous
While driving from one party to the next during graduation party season, driving distractions may be more abundant than on a typical day. Make sure your teen understands the dangers of taking their eyes off the road for even one second. Some of the common causes of distracted driving to discuss with your child are:
Getting a text message and having the urge to respond
Wanting to change the song on the radio
Taking a bite of food
Taking a drink of a beverage
Reaching to grab something that has been displaced while driving
Any time a driver stops paying attention to the road constitutes distracted driving, which could have devastating results. If you were in an accident with a distracted driver, contact a top-rated accident lawyer today.
The Dangers of Driving Drowsy
There is so much to celebrate when it comes to graduating from high school but driving while drowsy can put a swift end to any celebration. Make sure your teen has a plan if they are feeling too tired to drive. Whether they plan to sleep at a friend's house or call you for a ride, a backup plan will ensure that they do not end up in a dangerous situation.
Seat Belts Save Lives
Wearing a seat belt can be the difference between life or death. As your teen sets out to attend all of their graduation parties scheduled this summer, make sure they know to wear a seat belt. It may seem like a no-brainer, but it is essential to remind your children because it could keep them safe in the event of a car accident.
The Importance of Practicing Driving with Your Teen
Even if your child has passed their road exam and earned their license, most parents would attest that it doesn't make them a great driver. It cannot hurt to do some practice runs with your teen even after they have their license. Having you in the car to guide them will not only help them be better and safer drivers but can give you some peace of mind as well.
Expert Personal Injury Attorneys in Houston
Nothing is more important than having your child make it home safe. However, in the worst-case scenario where an accident occurs, you will want to ensure that your child comes out the other side as unscathed as possible. While this includes making sure any injuries they have suffered are on the mend, it is also about ensuring that there is justice for any damages suffered.
As one of Houston's top three personal injury firms, Sutliff & Stout Injury & Accident Law Firm is equipped to help you and your child through your accident case. The incredible client testimonials speak for themselves. You can trust that you and your teen are in good hands with the Houston car accident lawyers at Sutliff & Stout. To get a free case review, contact us here or call (713) 987-7111.