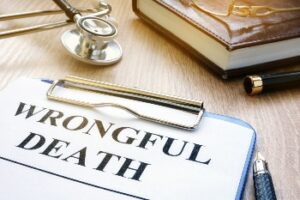 The unexpected death of a loved one is a devastating experience for surviving family members and friends. No words or acts can console a person after the untimely loss of a family member, particularly when someone else's negligence is responsible.
Fatal injuries can happen in many catastrophic accidents in Texas, including car crashes, defective products, and medical malpractice. While nothing can replace a lost loved one, pursuing a wrongful death lawsuit can help minimize the financial burden and ensure you receive some compensation.
Sutliff & Stout's wrongful death attorneys have helped countless families in Houston recover compensation from the at-fault party so they can focus on healing after the catastrophic loss of a loved one. We are here to provide you with a free consultation to determine if you have a case against the responsible party.
Below are several types of accidents that can lead to a wrongful death case in Texas.
Car Accidents
Car crashes are among the most common types of catastrophic accidents that lead to a wrongful death case in Texas because of the immense number of individuals who drive and how frequently they drive. In 2019, there were 3,610 fatalities and 15,843 serious injuries resulting from car accidents on Texas roadways, according to the Texas Department of Transportation.
Often, deadly car accidents are the consequences of the careless acts of one or more drivers, such as:
Excessive speeding
Distracted driving
Driving while drowsy
Driving under the influence of drugs or alcohol
Highway problems
Pedestrian, Motorcycle, and Bicycle Accidents
Pedestrians, motorcyclists, and bicyclists have very little protection in a collision with a vehicle, making their chance of survival much lower than any motorists involved. In 2018, the National Highway Traffic Safety Administration (NHTSA) reported that the following number of pedestrians, motorcyclists, and bicyclists died in traffic crashes across the United States:
6,283 pedestrians
4,985 motorcyclists
857 bicyclists
In many instances, it was the vehicle drivers' negligence and careless actions that caused these fatalities in Texas.
Truck Accidents
Although accidents with semi and commercial trucks are categorized as auto accidents, they vary from car accidents in several ways. The sheer size and weight of trucks involved in accidents can cause significant and potentially fatal injuries.
If your loved one was killed in a truck accident, there are several aspects your wrongful death lawyer will consider in establishing how the crash occurred, including:
Improper maintenance
A driver's mistake
Drunk or drugged driving
Mechanical malfunctions
Oversized loads
Unsuitably secured loads
Your lawyer will examine the trucking operation implicated in your loved one's collision to decide whether the driver, the trucking company, the truck manufacturer, or multiple parties are at fault in a wrongful death case.
Product Defects
A product defect is typically put into three categories: design defects, manufacturing defects, and marketing defects, which may involve insufficient instructions or warnings. These products are hazardous even when used correctly.
Product defects may cause severe injuries and sometimes deaths, including products such as:
Defective vehicles and their parts
Defective children's products
Defective medicines or drugs
Lethal food and containers
Manufacturers have an obligation to guarantee that products present no danger to consumers when they're sold. If defective products cause unnecessary risks to consumers, the manufacturer may be held at fault for any injuries or deaths related to the product.
Medical Malpractice
Healthcare professionals are highly trained to prevent harming their patients. Hospitals and medical facilities often have safety procedures established to protect patients from medical errors, as this negligence can be deadly.
Common types of fatal medical mistakes that may result in a wrongful death medical malpractice case include:
Misdiagnosis
Surgical mistakes
Birth injuries
Pharmaceutical errors
Erroneous or delayed treatment
Lack of informed consent
Hospital negligence
Defective medications
Malfunctioning medical devices
Workplace Deaths
Certain occupations put employees at a greater risk of death due to the dangerous environment of the job. However, workplace deaths can occur in any field where workers must perform under hazardous conditions. According to the Occupational Health and Safety Administration (OSHA), over 5,250 workplace deaths occurred across the U.S. in 2019—that's an average of 14 fatalities per day.
Some of the most common workplace accidents that led to a worker's death involve:
Being struck by objects
Electrocutions
Being caught in or compressed by machinery or equipment
Schedule a Free Consultation with Houston's Seasoned Wrongful Death Attorneys
At Sutliff & Stout, our wrongful death attorneys have handled countless wrongful death cases and secured millions of dollars in compensation for our clients across Texas. While we aim to settle cases out of court when possible, we will take a wrongful death case to trial when necessary to pursue full and just reimbursement for our clients' losses.
If you would like to discuss your wrongful death claim with a seasoned personal injury lawyer from Sutliff & Stout, please schedule a free consultation by completing an online contact form or calling today at (713) 987-7111.