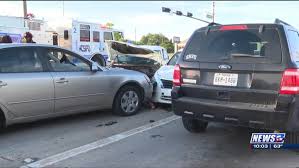 College Station, TX (4/13/2020) – A driver ran a red light and caused an accident with five vehicles Friday.
The collision occurred at the intersection of Texas Avenue and Harvey Mitchell Parkway around 7:00 p.m.
Four people were taken to the hospital with minor injuries.
The driver of the vehicle was issued a ticket for running a red light.
Crash investigators will review all factors that may have led up to the accident and police reports will be made available in fourteen days.
Running a red light at a traffic stop is a violation of Texas roadway laws, and a clear indication of negligence. If someone commits an act of negligence, and it results in injuries, those injured have a right to file a personal injury claim.
If you need to discuss a fatal accident case with a personal injury lawyer from Sutliff & Stout, Injury & Accident Law Firm feel free to give us a call at (713) 405-1263 or contact us online to discuss your injury or wrongful death claim.
Source: KBTX