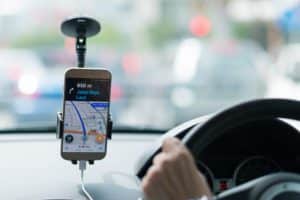 Rideshare services are an increasingly popular form of transportation. However, just like any other drivers or vehicles on the road, they pose unique dangers and risks. Uber—one of the most popular ridesharing services—attracts a wide range of drivers. While the app employs some experienced drivers, it also attracts novice drivers looking for a side hustle. Additionally, Uber's business model can allow drivers to be on the job for long hours, exposing them to fatigue and other distracted driving behaviors that can affect their driving and make them prone to accidents.
If you have been involved in a car accident while using a ridesharing app, it's essential to understand your rights. Working with a skilled personal injury lawyer is the best way to avoid manipulation from insurance companies and ensure you are properly compensated for any accident-related injuries and damages. Here is some important information to know about Uber accidents in Houston.
We want to help you too.
Submit the short form below to get a free case review.
Are Uber Drivers More Likely to Cause Car Accidents in Houston?
In the years leading up to the birth of ridesharing services, motor vehicle accident deaths were at record lows. However, in the past couple of years, fatal car accidents have steadily increased by 2-3% annually. While there is currently no research that supports the notion this increase is a direct result of ridesharing services, it is certainly a valid hypothesis. Unfortunately, many ridesharing services have employed in-app features that encourage their drivers to log more hours—often, for less money. These long hours spend on the road can make uber drivers more prone to poor driving behaviors.
Uber Drivers Log Long Hours on the Road
Uber allows its drivers to log a maximum of 12 hours on the road before taking a break. After logging 12 hours, drivers are required to take a break from the app for a minimum of six hours. This policy was enacted in order to reduce the risk of distracted or drowsy driving. However, while this may seem like an effective step to minimize driving risks, 12 hours of non-stop driving is a long time to be on the road without a break.
Uber Incentivizes Its Drivers to Stay on the Road
Just like streaming services incentivize viewers to binge-watch shows to increase profits, ridesharing services employ similar in-app features to incentivize their drivers to stay on the road for longer periods. These features include personalized messages that tell Uber drivers when they are about to hit their earning goal, incentivizing them to log just a couple more rides during their shift. This income-targeting technique encourages fatigued drivers to continue driving to hit their goal instead of getting off the road to recharge. Additionally, just like Netflix will place an "up next" prompt to the next episode of a tv show, Uber will pull up the next passenger before a current passenger is at their destination to encourage drivers to stay on the road for longer periods. These in-app features can place drivers at an increased risk for accidents, as they incentivize longer driving periods.
Contact the Personal Injury Lawyers at Sutliff & Stout
Uber, Lyft, and other ridesharing services have become popular modes of transportation. However, while these services provide convenience, they also pose unique risks. If you have been involved in a car accident in Texas while using a ridesharing service, it's essential to seek legal counsel from skilled Houston car accident attorneys. At Sutliff & Stout, we understand the stress accompanied by car accidents and are dedicated to taking a personalized approach to every case. Our firm has been recognized as one of the top 3 personal injury law firms in Houston, and our team has helped thousands of individuals with their car accident claims.
If you are looking to discuss your car accident case with a Houston car accident lawyer, the team at Sutliff & Stout is here to help. Call us today at (713) 405-1263 or contact us online to discuss your injury or car accident claim.