What is the average wrongful death settlement in Texas?
In general, wrongful death cases involve more significant damages than personal injury claims involving less serious consequences. For this reason, wrongful death settlements tend to be larger, on average, than other types of personal injury settlements. You can get a sense of the types of recoveries that are possible by reviewing a sampling of wrongful death case results that we've secured for our clients here →.
Losing a loved one in a preventable accident leaves family members and loved ones grieving, angry, confused, and searching for answers.
As survivors move through the stages of grief, however, they often get to a place in which they are searching for justice and closure and start to recognize the financial stresses that are often associated with the loss of a family member.
When this occurs, they may wonder how much compensation they will be able to receive as a result of their loss and how much an "average" wrongful death settlement may be. Our Texas wrongful death attorneys believe it is important for families to understand the legal issues concerning wrongful death lawsuit settlements in Texas. Click here to view sample wrongful death settlements that we have achieved on behalf of our clients.
There is No Such thing as an "Average" Wrongful Death Settlement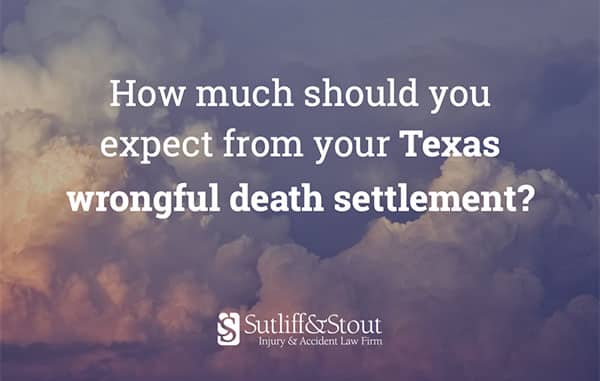 According to the Centers for Disease Control and Prevention, there were 130,557 unintentional injury deaths during 2013. While each one of these cases is a tragedy, deaths resulting from unintentional injuries are a relatively rare occurrence, and each case is carefully evaluated by insurance companies, lawyers, and the courts.
As a result, each wrongful death lawsuit is different and the amount of compensation that surviving family members can recover in a settlement or jury verdict is based on a number of factors, including the following:
The age of the victim
The earning potential of the victim
The type of accident in which the victim was involved
Whether or not the victim surviving for a significant period of time after the ultimately fatal accident occurred
The insurance policy limits of the at-fault party
Wrongful death settlements can range from several hundred thousand dollars to tens of millions of dollars, depending on the circumstances. Surviving family members can ensure that they receive the full value of their claim by retaining an attorney familiar with Texas wrongful death law and negotiating with insurance companies.
Talk to an attorney about your wrongful death case.
If you have lost a loved one in a preventable accident, you have the right to pursue justice, and hold the responsible party accountable. At Sutliff & Stout, we have substantial experience handling Texas wrongful death claims; we are here to help you. Give us a call at (713) 987-7111 or complete the short form below to discuss your case.
Contact Sutliff & Stout today for a free, no-obligation case review.
---
What is Considered Wrongful Death in Texas?
Wrongful death in Texas is defined by the cause of a wrongful act, carelessness, unskillfulness, neglect, or default of another person or corporation.
This means that a wrongful death claims exists if a loved one dies because of the negligence of others, such as a drunk driving accident, distracted driving wreck, 18-wheeler truck collision, medical malpractice, defective product, an explosion or any other kind of error on someone or some company's behalf.
---
Who Can File a Wrongful Death Lawsuit?
In Texas, wrongful death lawsuit may be filed by certain members of the decedent's family. This includes the surviving spouse, the children, and the parents of the decedent. In some cases, an adopted child may file a wrongful death claim if the adoption was legally and fully completed.
Adoptive parents can file a wrongful death claim for their adopted child. These claims may be filed as a single action or the members of the family can group together to file a claim.
In Texas, the surviving siblings of a decedent — whether adopted or biological — cannot file a wrongful death lawsuit. The claim must be filed by one of the above parties and the siblings are not part of a claim if it is grouped together by the parents, children, or surviving spouse of the decedent.
---
What Damages are Available in a Wrongful Death Lawsuit?
In Texas, wrongful death damages are awarded to compensate the family members for their losses experienced when losing a loved. The types of damages that are recoverable vary and often depend if the claimant is a surviving spouse, a parent, or a child.
The most common damages, include mental suffering, lost earning capacity, and lost of love or companionship. Depending on the cause of death a family may be able to recover exemplary or punitive damages to penalize or punish the defendant for their gross negligence.
---
What are the Wrongful Death Statute of Limitations in Texas?
In the state of Texas, the surviving family members are required to file their wrongful death lawsuit within two years of the decedent's death. It is best to talk to a wrongful death attorney as soon as possible to allow time to investigate and file a proper wrongful death claim within the deadline.
---
Why is it Important to Retain an Attorney?
Many family members who have lost loved ones are contacted by insurance companies shortly after an accident and offered settlement offers that may seem substantial and wonder whether they need to retain an attorney at all. Individuals who believe that they may have a wrongful death claim should always talk to an attorney before accepting any settlement offers made by any party.
Accurately assessing the value of a wrongful death case is extremely difficult and it is often necessary to consult with experts in order to determine how much a person would have earned over the course of his or her lifetime had it not been for the accident. Survivors who accept settlement offers prior to retaining a lawyer risk losing out on a significant amount of compensation without an ability to pursue it in the future.
---
Contact a Wrongful Death Lawyer Today for More Information about the Value of Your Claim
It is natural for the surviving family members to want to seek justice after an accident takes their loved one from them and, in our legal system, justice often means recovering money for the losses that victims have sustained.
The skilled wrongful death attorneys of Sutliff & Stout will meet with you at no cost to discuss your case and give you an idea of what it may be worth. To schedule a free consultation with one of our lawyers, call our office today at 713-987-7111.
---