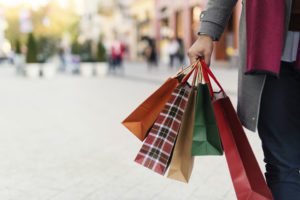 Every holiday season, parking lots are home to many car accidents. While seemingly less dangerous than roads, parking lots provide drivers with a host of challenges: crowds of pedestrians, low visibility, and lots of vehicles to navigate. At the holidays, these challenges are exacerbated as people hunt for open spaces —sometimes aggressively—and there's no shortage of distracted drivers and pedestrians. Here are some tips for how to avoid parking lot accidents this holiday season.
What to Know About Holidays and Parking Lot Accidents
While parking lot accidents can happen at any time, they are much more likely to happen during the holidays. In fact, parking lot accidents increase approximately 20% over the holiday season—approximately from Thanksgiving to Christmas. Thanksgiving, Black Friday, and the week leading up to Christmas are all periods in which the risk of getting into a parking lot accident significantly increases. The good news is with some simple strategies, you can minimize your risk of being involved in a parking lot accident. Below are a couple of pointers for how to stay safe in parking lots this holiday season.
We want to help you too.
Submit the short form below to get a free case review.
Safety Tips for Pedestrians
While the holidays heighten the risk of parking lot accidents, there's still plenty pedestrians and shoppers can do to lower their risk. Some safety tips pedestrians should follow this holiday season include:
Use designated crosswalks. One of the best ways to protect yourself in parking lots is to use designated crosswalks. Cutting across a parking lot or choosing the fastest route to your car will make it harder for cars to see you and stop appropriately.
Don't carry to many bags at once. Loading up your arms with bags to the point where you can't see what's in front of you is a recipe for disaster.
Avoid peak shopping times. If you can, avoid going to shopping centers at peak times—such as the weekends or weekdays after 5 PM.
If possible, order online. If you can, skip the crowded malls and parking lots, and order gifts online.
Stay alert. If you find yourself in a hectic parking lot, it's essential to stay alert. Looking down at your phone or engaging in any other distracted driving behaviors is a good way to end up causing an accident.
Safety Tips for Drivers
Just like pedestrians, drivers must also take steps to minimize their risk in parking lots. Some tips for how drivers can avoid parking lot accidents include:
Park far from the entrance. While it can be a slight nuisance to walk a little farther, it will save you so much hassle in finding a spot and navigating through traffic.
Back into your parking spot. While backing into a parking space can be more involved than pulling in, it's much safer than backing out of the parking spot when you leave. When you back out of a parking spot, it can be really hard to see the cars and pedestrians around you.
Check your blind spots and watch out for children. Resist the urge to quickly leave the shopping center and do your due diligence checking your mirrors, blind spots, and looking out for children.
Avoid distractions. If you need to make a call or send a text, be sure to do so before you start pulling out of your parking spot.
Even if you're doing everything you can to be safe, accidents can still happen, If you end up being involved in a parking lot accident this holiday season, a personal injury lawyer can be an essential resource for ensuring you receive fair compensation for any damages you incur.
Contact the Personal Injury Lawyers at Sutliff & Stout
If you have been involved in a parking lot accident in Houston, it's essential to seek legal counsel from a skilled personal injury lawyer. Car accident claims can be complex, and it's imperative to have an experienced attorney on your side to ensure you aren't manipulated by your insurance company.
At Sutliff & Stout, we understand the stress caused by car accidents and are committed to taking a personalized approach to every case. Our firm has been recognized as one of the top 3 personal injury law firms in Houston, and our team has helped thousands of individuals with their car accident claims.
If you are looking to discuss your car accident case with a personal injury lawyer, the team at Sutliff & Stout is here to help. Call us today at (713) 405-1263 or contact us online to discuss your injury or car accident claim.