Houston, TX (3/9/2021) – Multiple big rigs were involved in a major accident near downtown Houston.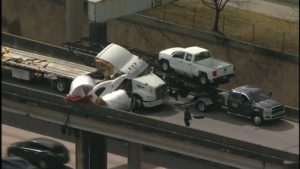 The accident happened on the ramp connecting the Eastex Freeway and the Gulf Freeway around 1:45 p.m. Details of the accident remain unknown but from above a couple of large cylindrical items that appear to have shifted on one 18-wheeler.
Crash investigators will review all factors that may have led up to the accident and police reports will be made available in fourteen days.
Truck Accident Attorneys
For crash investigations involving 18-wheelers, ECM's or Electronic Engine Modules will be brought in to examine how exactly the accident may have happened. ECM's have the ability to record every facet of data that occurred while the driver was driving the tractor-trailer. From documenting brake time to monitoring idle speed control systems, ECM's are proven to be vital evidence to every investigation.
If you live in Houston or the surrounding areas and were injured in an accident with a commercial truck or bus, call the truck accident lawyers at Sutliff & Stout today. Our experienced truck accident lawyers work tirelessly to get you the compensation you deserve. Call (713) 987-7111 and someone from our firm will be in touch with you to set up a free and confidential case evaluation.
Source: ABC 13
Our deepest condolences go out to the families of the victims of this horrible incident. Please click the "Remove Post" link if you would like this post removed. REMOVE POST