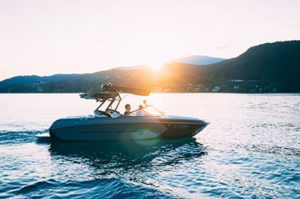 Now that summer is officially at our door, more and more Texans will begin hit the water to beat the heat. Lake days and trips to the beach are classic traditions for many of us, but it's important to understand and review a few safety tips!
We here at Sutliff and Stout believe that safety first is the best approach. At the end of the day, we all want to have fun with our friends and family over these summer months, but they most be done in a safe manner. No one wants to get hurt. That means time away from doing the things we love this time of year. While on the boat this summer, remember these five tips to keep you and your loved ones safe!
Education is Key!
Before you even back the boat into the water? Ask your "captain" how experienced they are? Is anyone else on the boat trained in how to properly drive? The Texas Department of Parks & Wildlife (TDPW) works with at least five different programs to help provide educational resources to all who may need it. These classes walk you through the basics of safety equipment, boat navigation, and proper operation of a motorized/non-motorized boat. The courses are designed for anyone planning to set sail on a traditional motorboat, sailboat, paddle boat, or any variety of personal watercraft.
All courses promoted by the TDPW undergo a certification process through the state. All courses must first be certified by the National Association of State Boating Law Administrators (NASBLA).
In the state of Texas, these classes are a necessity for anyone born after September 1, 1993. Texas requires everyone born after that date to complete a boating education course and keep a copy of their certification with them anytime they're operating a boat. For more information, we encourage readers to review the TDPW's Water Safety Act Booklet.
Remember the basics!
Most boating related fatalities happen when someone is NOT wearing a Personal Flotation Device (PFD) or life jacket. Before pushing off from the dock or shore, remember to check to make sure your personal watercraft is equipped with enough PFDs or life jackets for every adult and child on board plus a few extra! Taking this minor extra precaution over carrying extra PFDs can come in handy in-case of an emergency situation. Remember, children under the age of 13 must wear a PFD at all times while on the watercraft.
In addition to proper PFD use, remember to just be careful and check your surroundings! Most boaters abide by what's commonly called the 50-foot rule. This calls for boaters to maintain, at minimum, 50 feet of space between them and the next closest vessel, person, shore, or object in the water.
Slow it down!
Speeding on the water can be especially dangerous for recently learned boat drivers. Despite most lakes or bodies of water not having a traditional speed limit, local authorities can still issue tickets for excessive speeding or operation of a watercraft that they deem as reckless. Commonly, the busier the body of water is, the more caution needs to be given.
The question commonly is how fast is too fast? Again, since there is no official speed limit for most bodies of water, it's hard to determine sometimes. What defines excessive speed? According to the TDPW, the department officially defines excessive speeding as a "rate of speed greater than is reasonable or prudent without regard for conditions and hazards or greater than will permit a person to bring the boat to a stop within assured clear distance ahead."
Follow proper docking and anchoring procedures!
After pushing off from the dock, most people will end wanting to drop an anchor and enjoy the cool water under the Texas sun. Before you can do this though, it's critical to know how to properly drop your anchor. Oftentimes, many watercraft will lay down two anchors to compensate for the movement of the waves and the wind. For best results, try to drop your anchor in water that's at least 20-30 feet deep.
As mentioned, wind is one of the biggest factors boat drivers will need to compensate for. This is especially true when docking. When approaching the dock or shoreline, be aware of all sides of your watercraft. If your watercraft has bumpers, make sure they're attached properly to prevent any unforeseen bumps from damaging the boat. As you approach the dock or shore, be sure to secure the docking lines. If the winds are high, you will need to compensate for the wind blowing, possibly by 20-30 degrees. Once in your final position, secure your watercraft with the bow line.
Pack your bags!
When preparing for a day on the water, the most important step besides checking for extra life vests or the status of your watercraft, is to plan ahead for any occasion. We recommend doing this by packing a bag with the necessary essentials! Below is a list of just a few suggestions!
– Batteries and a Flashlight
– Duct Tape
– Rope
– Whistle
– First Aid Kit
– Garbage Bags
– Fire Extinguisher (depending on the size of the watercraft)
– Snacks
Houston Maritime Lawyers
We understand that whether you are a seaman, harbor worker, fisherman, longshoreman, or just looking for a day on the lake, your ability to work and live was compromised by an accident on the water. These cases are complex and require an experienced maritime attorney. Our attorneys have successfully helped maritime injury victims.
If you or someone you know has been injured in a maritime accident, contact Sutliff & Stout to discuss your maritime claim at (713) 987-7111 or contact us online. Our team will properly evaluate your claim and help protect your interests.