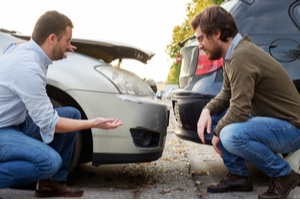 Most people consider rear-end car accidents to be minor. Often, these collisions occur in bumper-to-bumper traffic, in a parking lot, or in other situations when cars are moving at low speeds. When rear-end car accidents occur at high speeds, they can result in severe injuries and are sometimes fatal.
Fortunately, fatal rear-end car accidents are a rare occurrence. Most drivers pay attention and adjust when they follow another vehicle too closely. Nobody wants to be in a car accident, even those who drive aggressively. In this article, we consider the primary causes of rear-end car accidents and the injuries that typically result from one. If you're in any collision, whether it be a rear-end accident or another type – be sure to contact experienced and accomplished personal injury attorneys like those at Sutliff & Stout.
We want to help you too.
Submit the short form below to get a free case review.
Distracted Driving is a Major Cause of Rear-End Car Accidents
In a world where everyone is virtually connected, many drivers are guilty of driving while distracted. Whether that means texting or adjusting their GPS while in motion, drivers put their lives and the lives of others nearby at risk any time their eyes leave the road. According to the National Highway Traffic Safety, an estimated 400,000 people were injured and 2,841 were killed in 2018 from distracted driving.
All it takes is a second of driving distracted not to notice the car ahead has hit their brakes. If you're not paying attention, you could rear-end the unsuspecting driver ahead of you and send them to the hospital. Unfortunately, many people ignore the dangers of distracted driving until they've experienced the consequences of one. Victims of a rear-end collision may need surgery or physical therapy to recover. If the crash occurred at high speed, it could be fatal.
Speeding is Another Main Factor for Rear-End Collisions in Houston
Speed limits in Texas have increased over the last decade or so, but faster speeds are still more dangerous. Drivers operating at excessive speeds can lose control of their vehicle or lose necessary seconds of reaction time, resulting in a fatal crash. By the time a speeding driver reacts to traffic conditions, it could be too late. When it's too late to avoid a collision with the car ahead, the accident can be fatal.
What Are Common Injuries that Result from Rear-End Car Accidents?
The vast majority of rear-end car accidents occur at low speeds, meaning they often result in minor injuries. Some of the most common injuries include:
Whiplash
Sprains and strains
Bone fractures
Neck and back injuries
Whiplash occurs for many rear-end car accident victims. It results from the sheer force when the car gets propelled forward and back. The driver's or passenger's neck flings forward and back with the car, causing the fragile tissues in the neck, shoulders, and back to tear. Often, whiplash heals within a few weeks. Sometimes, however, the injury can be severe and requires surgery for treatment.
Severe Rear-End Collision Injuries
When rear-end car accidents occur at high speeds and sometimes lower speeds, the resulting injuries can be worse, and sometimes fatal. Rear-end collisions may result in:
Spinal cord injury: Severe accidents that eject the driver or passenger from the vehicle can result in acute spinal cord injuries.
Traumatic brain injury: This injury occurs when victims suffer a harsh blow to the head that can result in internal bleeding. Brain injuries can result in a lifetime of disability.
Broken neck: This type of injury can leave a victim permanently disabled and can sometimes be fatal.
While severe rear-end collisions do not occur as frequently as lower impact rear-end collisions, when they do occur, they can be disastrous and sometimes fatal.
Contact Accomplished Car Accident Attorneys in Houston after a Rear-End Collision
If you or a loved one has been injured in a rear-end accident or another type of car accident, do not delay in getting the legal help you need. The attorneys at Sutliff & Stout are dedicated to helping car accident victims in Houston receive the financial compensation they need to recover so they can get back to normalcy. Our lawyers are Board Certified in Personal Injury Trial Law by the Texas Board of Legal Specialization. We have helped countless accident victims recover thousands of dollars in favorable settlements and verdicts. Schedule a free consultation with a trusted Houston car accident attorney today by completing an online contact form or call our office at (713) 987-7111.