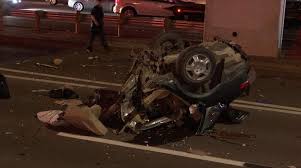 Houston, TX (5/4/2020) – A driver was ejected and killed after a car wreck split a car in half on the Southwest Freeway feeder.
The accident happened around 9:30 p.m. when a Cadillac driven by Jose Talamantes, 62, was southbound on the U.S. 59 feeder road. As a Honda Civic was taking the exit for Hillcroft, the Cadillac rear-ended the Honda and sent the Honda into a highway pillar.
The Honda split in half on impact, and the driver was ejected. Paramedics pronounced the Honda driver dead on the roadway.
The driver of the Honda was identified as Abdimalik Maigag, 29, of Houston.
According to witnesses, the Cadillac driver stopped his vehicle on top of the victim. Then he sped off.
The Cadillac driver was later arrested at a nearby home after witnesses followed him there. He was charged with failing to stop and render aid and could face an intoxication manslaughter charge.
Crash investigators will review all factors that may have led up to the accident and police reports will be made available in fourteen days.
Wrongful Death Lawyers
Due to the nature of this accident, and the fact that a car was split in half during a collision, a substantial crash investigation will be conducted. This involves conducting interviews, contacting witnesses, and bringing in Accident Reconstructionists to recreate the collision.
From there on, contacting an attorney at Sutliff & Stout may be of best interest following an accident such as the one above. An attorney can deal with insurance adjusters for you, negotiate settlements, and represent your best interests if a lawsuit is needed. If you or a loved one were involved in a car accident, immediately contact a legal expert to help you evaluate your options. Call car accident attorneys Sutliff & Stout at (713) 405-1263 or send us an email to discuss your car accident injury case.
Source: Houston Chronicle