Angelina County, TX (7/26/2021) – A child is dead after a four-vehicle crash occurred near Lufkin.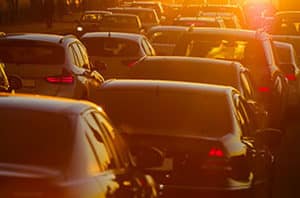 The accident happened on Highway 59 around 4:15 p.m. A Ford F-350 pickup truck was headed south when the tire blew out. The truck crossed over into the center median, where it struck a Dodge SUV head-on. The Dodge then collided with a Honda passenger car. The Ford kept traveling, where it then also struck a Ford F-150 before stopping. 
A passenger from the Dodge was killed at the scene. She was identified as a 13-year-old child. 
The driver of the Dodge is identified as 33-year-old Alicia Stephenson was transported to Memorial Hermann Hospital in Houston by medical helicopter for treatment. 
The driver of the Ford F-350, 30-year-old Gabrila Godoy, and her three passengers, children ages 11, 9 and 4, were all taken to a local hospital for treatment. The driver of the Ford F-150, 46-year-old Misty Denton, was also taken to a hospital.
The driver of the Honda, 31-year-old Hannah Fowler, was treated and released at the scene. 
Crash investigators will review all factors that may have led up to the accident and police reports will be made available in fourteen days.
Car Accident Lawyers, Sutliff & Stout
Accidents that involve extensive injuries or death are encouraged to contact legal counsel due to the number of damages that come from an accident that causes such fatalities. An attorney can deal with insurance adjusters for you, negotiate settlements, and represent your best interests if a lawsuit is needed.
Because a child was killed in a four-vehicle wreck, a wrongful death claim will need to be filed. Following a fatal car accident, victims and families of victims may find the claim process difficult. More often than not, the insurance claim adjuster will do what they can to make the claims process harder on you to benefit the insurance company. They might try to get you to admit it was your fault or convince you to accept a low-ball settlement. To avoid this frustrating process, contact a personal injury lawyer to file your claim. We're on your side and we will do what we can to make sure you're protected.
If you're in the Houston, Texas area and your child has experienced injuries, the team at Sutliff & Stout Injury and Accident Law Firm is here for you. To schedule your free consultation, call our office at 713-405-1263 or fill out our online contact form today.
Source: NBC 15, wearegreenbay.com, Channel 3000