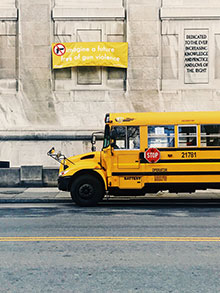 Warren, TX (April 18, 2019) – A church bus carrying nine passengers was involved in a serious crash Wednesday evening in Warren, Texas.
The bus accident happened at 5:30 p.m. on US 69 in Tyler County, north of Warren, Texas. The driver of a bus from First Baptist Church of Warren was traveling southbound on US 69. According to witnesses, the driver of a passenger vehicle pulled out from a driveway in front of the bus.
The bus driver tried to avoid colliding with the vehicle by overturning the steering, but lost control. The bus veered off the roadway and struck a tree.
The bus driver has been identified as 38-year-old Robert Craig of Wildwood. Mr. Craig was transported to a local hospital with serious injuries.
One of the adult passengers, 62-year-old Doug Sheffield of Warren, was transported to a Beaumont hospital with serious injuries.
The second adult passenger, 42-year-old James Craft Jr. of Woodville, died at the scene.
There were six children passengers ranging from nine to fourteen years old. Authorities report that the children did not suffer any life-threatening injuries. Two children were transported to Tyler County Hospital; two children were transported to Baptist Hospital Beaumont and one child was transported to CHRISTUS Hospital St. Elizabeth. The last child was transported by a personal vehicle to a Beaumont hospital.
Troopers continue to investigate the fatal accident and police reports will be made available in approximately ten days.
If you or a loved one were involved in a car accident, it is important to contact a legal expert to help you evaluate your options. Call (713) 987-7111 or send us an email to discuss your car accident injury case.
If a family member would like the name of a person removed for any reason, please click the "Remove Post" link. REMOVE POST
Source: 12 News Now, My High Plains