On May 14, 2020, Austin Public Health released a five-stage chart that describes the risk-based guidelines for individual restrictions and recommendations as well as which businesses should be open. Currently, Austin is considered to be in the middle of Stage 3.
Below you can see the chart and the various guidelines for each stage.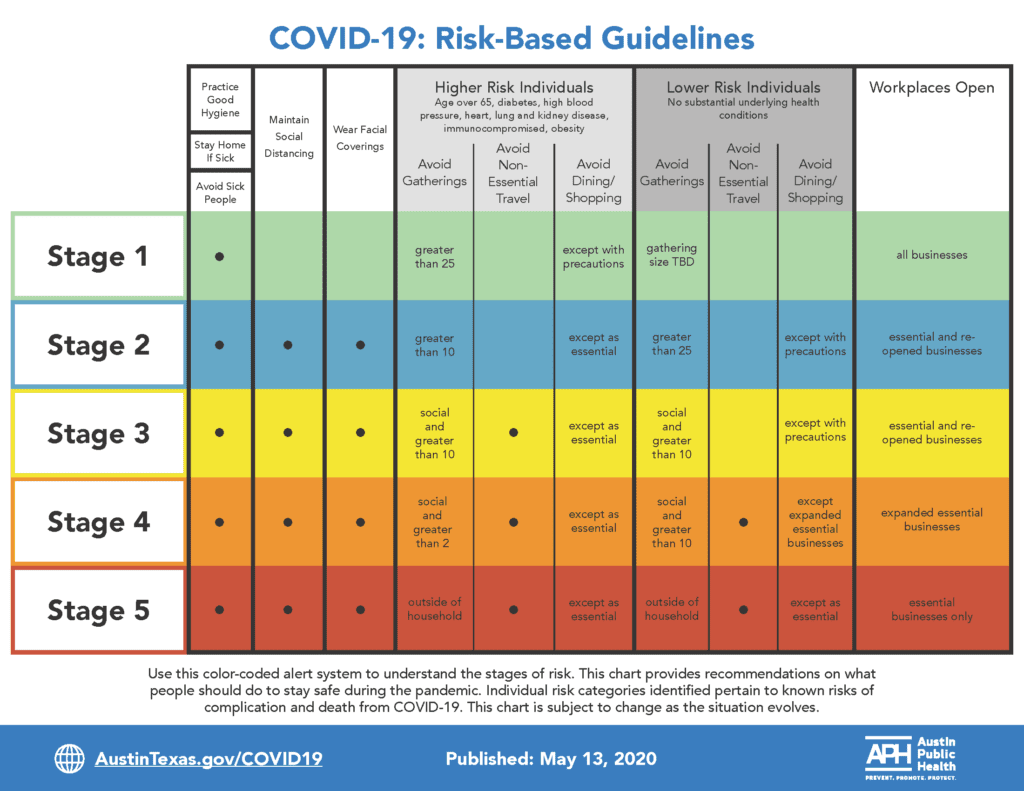 Source: http://austintexas.gov/news/new-risk-based-guidelines-help-community-stay-safe-during-covid-19-pandemic
Stage 1 represents the lowest threat and Stage 5 represents the most serious. The chart also alters the recommendations based on whether an individual is higher risk or lower risk. Higher risk individuals are described as those who are over the age of 65, have diabetes, high blood pressure, heart, lung, and kidney disease, the immunocompromised, and those with obesity.
Based on an assessment using provisional modeling, Austin-Travis County is considered to be in the middle of the Stage 3 risk category. As a result, the current recommendations for individuals in Austin are as follows:
Practice good hygiene
Stay home if sick and avoid other people who are sick
Maintain social distancing
Wear masks in public
Avoid all social gatherings, and any gatherings of more than 10 people
Lower risk individuals are encouraged to avoid dining and shopping except with precautions, such as wearing a mask
Higher risk individuals are encouraged to avoid dining and shopping unless it is essential and if doing so, with precautions
Higher risk individuals should avoid non-essential travel
It is safe to return to work at essential and re-opened businesses only
Austin-Travis County Health Authority Dr. Mark Escott said that the Austin area will not reach Stage 0 on the chart (where everything is returned to pre-COVID-19 conditions) until a vaccine is available, which could take another year or more.
As various factors change over time, such as the number of hospitalizations and the number of deaths, the stages may change in the future in either direction. There are no set triggers established that will determine when Austin jumps from one stage to another.
Dallas County released a similar color-coded system just a few days before Austin unveiled its chart to help residents gauge the risk level of venturing out in public. Dallas is currently is in the red zone, which means that residents should avoid crowds, maintain social distancing, wear masks at businesses or while on public transportation, and practice good hygiene.