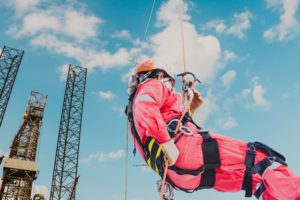 The Longshore and Harbor Workers' Compensation Act (LHWCA) has been in place since 1927, providing workers with benefits following an injury on navigable waters. A worker is generally entitled to compensation for lost wages, medical care expenses, and, occasionally, vocational rehabilitation services under the LHWCA. Additionally, the LHWCA provides families with compensation and benefits after a loved one passes away due to an injury sustained while a worker loads, unloads, repairs, or builds a vessel.
Under the LHWCA, maritime workers are entitled to benefits if they are injured on the job but are not covered under state workers' compensation laws or qualify as a seaman under the Jones Act. In many ways, the LHWCA is similar to state workers' compensation programs in that injured employees can't sue their employers for injuries. Nevertheless, in some cases, the LHWCA allows an injured worker to file both a workers' compensation claim and a tort claim. The exception is provided under LHWCA 905(b).
A Texas maritime injury lawyer can assist you with questions about 905(b) claims under the LHWCA. With Sutliff & Stout's legal expertise at your disposal, you can take action to obtain compensation.
Am I Covered by the Longshore and Harbor Workers' Compensation Act?
Employees or workers whose employment responsibilities are performed on or near navigable waterways in the United States are covered by the LHWCA.
It includes dock workers, pier workers, terminal workers, wharf workers, and workers who perform maintenance, load and unload cargo, or build ships. Some examples of workers covered by the LHWCA include:
Winch operators
Dockworkers
Clerks and checkers
Operatives of forklifts
Longshore workers
Ship repairers
Ship engineers
Shipbuilders
Ship-breakers
Harbor construction workers
Who Is Not Covered by the LHWCA?
In certain cases, however, employees may not be covered by the LHWCA because of their position or their conduct. The following parties are excluded from coverage under the LHWCA:
Seamen
All employees of government agencies, whether federal, state, or foreign
Those injured solely because of their intoxication
Employers who intentionally injure themselves or others
Workers covered under the state's workers' compensation laws
What Is a 905(b) Claim?
If you are not a seaman and you have been injured while performing dock work or some other maritime activity, your claim will almost certainly be handled by LHWCA. Employers are only liable for statutory benefits, which they must pay regardless of negligence, in exchange for immunity from lawsuits by injured employees. In any case, injury victims can still bring a tort action against third parties.
An action for negligence can be brought against a vessel owner under section 905(b) of the LHWCA. As defined in the LHWCA, "vessel" includes the vessel's owner, owner pro hac vice, agent, operator, charterer or bareboat charterer, master, officer, or crew member.
What Do You Need to Prove Eligibility for Recovery under a 905(b) Claim?
In order to recover under 905(b), you must show the following:
(1) that the vessel had a duty to protect against the hazard;
(2) breach of that duty;
(3) injury; and
(4) that the injuries and damages were proximately caused by the negligence of a vessel.
Similar to other maritime claims, the doctrine of assumption of risk and contributory negligence does not apply to Section 905(b) claims. Rather, any negligence on the part of the claimant only serves to reduce the recoverable damages.
What Constitutes Vessel Negligence for a 905(b) Claim?
An instance of vessel negligence can occur when the vessel fails to uphold a duty owed to the crew, and it can come into play in some of the following situations:
Workers are given vessels with defects;
Vessel owners who do not actively participate in vessel operations or maintain adequate control over the vessel's surroundings; and
Vessel owners who are aware that unsafe conditions or defects may pose a threat to the safety of maritime workers.
Damages Available under a 905(b) Claim
In essence, the LHWCA is a form of workers' compensation. Victims can only be awarded compensation for medical treatment and a percentage of their wages. Compensation like this is helpful for everyday workplace injuries but is not always appropriate for those seriously injured as a result of negligence.
The troubles facing the victim of a serious injury often extend far beyond medical bills and lost wages. As a result of diminished functioning, they often require continued care and compensation for their future lost income and pain and suffering due to a decline in the ability to work as before.
Damages under a 905(b) claim generally include:
medical and rehabilitation expenses
loss of earning capacity
loss of family and personal services
pain and suffering
psychological and emotional injuries
loss of enjoyment of life
permanent disability and disfigurement
in the case of a death, loss of society to dependents
prejudgment interest
Ship Owners' Duties to Longshore Workers
Vessel owners generally owe three primary duties to longshore workers. The first duty is known as the "turnover duty." This duty relates to the condition of the ship when longshore workers start the stevedoring operations. The second duty is called the "active control duty." This duty is in effect when stevedoring operations are underway and such operations are under the active control of the vessel. In these situations, the vessel owner is required to use reasonable care to prevent injury to longshoremen in areas that are under the control of the vessel. The third duty is the "duty to intervene."
There are a lot of nuances to making a 905(b) claim and to making sure that all at-fault parties are held accountable for their actions. In light of these nuances, it is best that you hire a Board-Certified lawyer that is familiar with the LHWCA and knows how to properly analyze your case.
905(b) Claims Must Be Filed by the Deadline
905(b) claims must be made within three years of the incident. This statute of limitations applies to all maritime claims. Having said that, sometimes the claim is more applicable under state law tort, and thus the state's time limit will apply. Waiting too long to pursue legal action could preclude you from filing a claim and recovering damages. The sooner you work with a lawyer, the better your chances of protecting your rights, regardless of whether your claim is filed through the state or as a 905(b) claim.
Texas Maritime Attorneys Experienced with 905(b) Claims
Sutliff & Stout is a law firm representing personal injury and accident victims, including those injured through maritime-related accidents. Our Board-Certified accident attorneys represent workers with longshore and harbor workers' compensation claims with a results-oriented approach. We have recovered millions of dollars on behalf of hundreds of clients hurt through the negligence of others.
For more information on your legal options and to get in touch with an attorney who will vigorously protect your interests, call top legal experts Sutliff & Stout at (713) 987-7111 or complete a contact form today.