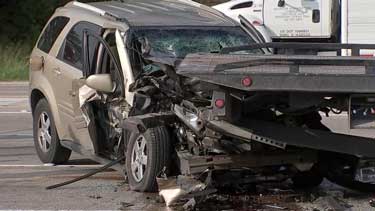 HOUSTON (November 8, 2018)- A father accused of a drunk driving with his two sons in a SUV caused a deadly crash in northwest Houston.
The father has been identified as Fernando Carcamo, 30, who picked up his children from school Wednesday afternoon.
According to crash investigators, the accident occurred around 1:40 p.m. in the 2400 block of West Mount Houston. Carcamo was driving a 2007 Chevrolet. Carcamo sped through a red light, collided into a wrecker, then spun around and crashed into the back of anther tow truck. The car was totaled from the crash.
Carcamo's sons, an 8-year-old in the front seat and a 5-year-old in the back, did not have their seatbelts on at the time of the crash. The eldest died at the scene. The younger son suffered a traumatic head and neck injury. Carcamo was taken to the hospital in critical condition.
The court has charged him with manslaughter and aggravated assault causing bodily injury. According to Sheriff Ed Gonzalez, "there's evidence that he was intoxicated at the time of this fatal accident, so we are pursuing a murder charge." Carcamo bond has been set at $60,000.
If you or a loved one were involved in a car accident, it is important to contact a legal expert to help you evaluate your options. Call (713) 987-7111 or send us an email to discuss your truck accident injury case.
If a family member would like the name of a person removed for any reason, please click the "Remove Post" link. REMOVE POST
Source: ABC 13