Donna, TX (11/11/2020) – One person was killed and two others were injured after a car crash took place in Donna.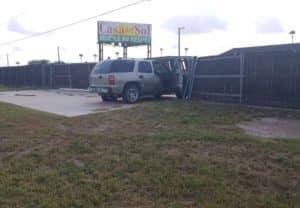 The incident occurred at the Circus Vasquez Wednesday morning. An 18-year-old driver lost control of the vehicle and crashed into the circus. Two people were injured as a result – an 11-year-old and a 14-year-old.
The two victims were sent to the hospital with non-life-threatening injuries.
Crash investigators will review all factors that may have led up to the accident and police reports will be made available in fourteen days.
Property Damage Lawyers Sutliff & Stout
As a result of the accident, two children were left with non-life-threatening injuries caused by the wreck. Because of this, the family of the children is entitled to personal injury claims against the driver's insurance. If you're in Texas and your child has experienced injuries, the team at Sutliff & Stout Injury and Accident Law Firm is here for you. 
Additionally, the driver caused a great deal of property damage to the circus. According to Forbes.com, the average American experiences three or four car accidents in their lifetime, and almost all collisions result in significant property damage. The car accident attorneys at Sutliff & Stout have helped countless car accident victims in Houston with their property damage claims. The at-fault vehicle owner's insurance policy should pay to repair property damage. Even in no-fault states, the at-fault vehicle's policy still pays. In this situation, the coverage is provided by the insurance company covering the vehicle. 
We believe everyone deserves competent legal counsel and we will walk by your side every step of the way to provide you with just that. To schedule your free consultation, call our office at 713-987-7111 or fill out our online contact form today.
Source: Valley Central
Our deepest condolences go out to the families of the victims of this horrible incident. Please click the "Remove Post" link if you would like this post removed. REMOVE POST