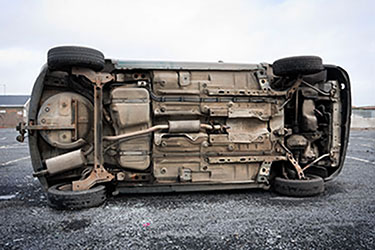 Houston, TX (April 25, 2019) – A man and a woman were killed and another man was injured in a rollover crash in northeast Houston.
The single-vehicle accident happened around 3:50 a.m. on the 3700 block of Parker Road.  According to Houston police, a male was driving a silver Dodge Charger traveling eastbound on Parker Street near Dodson.
The driver fell asleep and crossed into the westbound lanes. The passenger over-corrected the steering causing the car heading towards a ditch, hitting a large tire, and then flipped upside down.
The driver a 57-year-old man and a back passenger 30-year-old woman were pronounced dead at the scene. The front seat passenger, 30-year-old man, was transported to Lyndon B. Johnson Hospital and is expected to survive. Police believe all three people were family members heading home. The identities of the victims have not been released.
Crash investigators will review all factors that may have led up to the accident and police reports will be made available in ten days.
If you or a loved one were involved in a car accident, it is important to contact a legal expert to help you evaluate your options. Call (713) 987-7111 or send us an email to discuss your car accident injury case
Source: Houston Chronicle