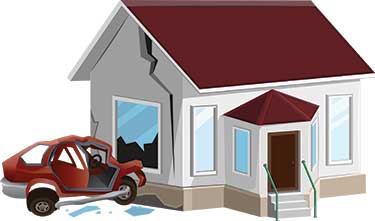 HOUSTON (September 12, 2018) – Early Wednesday morning Houston Police Department (HPD) responded to a hit-and-run crash that pushed a resident's vehicle into the garage.
According to HPD, the driver lost control of the vehicle, entering the eastbound side of Fuqua Street, drove through the yard, a chain-linked fence and crashed into a parked car.
The force of the collision caused the parked car to crash into a detached garage. The driver of the crashed vehicle fled the scene. The homeowners were at home when notified by HPD, unaware of the car crash damaging their property.  No injuries were reported.
Under Texas law, a hit-and-run accident is referred to as leaving the scene. The motorist knowingly hits a vehicle and intentionally drives off, refusing to leave his or her contact information or calling 911.
Examples of hit-and-run accidents include:
A person hits your parked car (parking lot or residence) and flees the scene without leaving his or her contact information.
A person hits your car while you're driving and speeds off to avoid you.
A drunk driver hits your car and flees the scene to avoid a DUI/DWI.
Hit-and-run car crashes are some of the most frustrating incidents a person can experience. The first thing you need to do when you've been involved in a hit-and-run accident is, call the police and stay on the scene. If someone hit you as you were driving, pull over to a safe area, and write as many details you can about the vehicle before calling the police.
Once you've filed the police report, contact your insurance company to file a claim. After a few days you can retrieve your police accident report for your personal records.
If you or a loved one experienced a hit-and-run car accident, it is important to contact a Houston car accident lawyer to help you evaluate your options. Call (713) 987-7111 or send us an email to discuss your car accident injury case.
Source: https://www.click2houston.com/news/driver-flees-after-crash-sends-parked-car-into-building-police-say