Houston, TX (7/27/2021) – A driver was killed after another driver allegedly ran a red light Tuesday morning.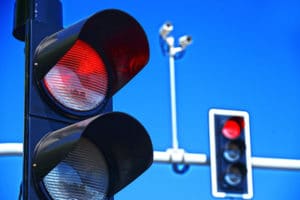 The accident happened near Bush Intercontinental Airport around 5:51 a.m. at north Sam Houston Parkway and JFK Boulevard. A black Ford F-150 was speeding when he allegedly ran a red light and slammed into a Nissan that was headed southbound on JFK. The impact caused both vehicles to leave the intersection and hit a Ford Expedition.
A couple signs, a light post, and a witness vehicle was also involved in the crash.
The male driver of the Nissan was pronounced dead at the scene.
The driver of the F-150 was taken to the hospital with minor injuries.
Crash investigators will review all factors that may have led up to the accident and police reports will be made available in fourteen days.
Houston Accident Lawyers
Running a red light at a traffic stop is a violation of Texas roadway laws, and a clear indication of negligence.
If someone commits an act of negligence, and it results in a death, the family may be entitled to a wrongful death claim. For the situation above, the family of the driver that died has a right to file a wrongful death claim against the red light runner.
If you need to discuss a fatal accident case with a personal injury lawyer from Sutliff & Stout, Injury & Accident Law Firm feel free to give us a call at (713) 405-1263 or contact us online to discuss your injury or wrongful death claim.
Source: ABC 13