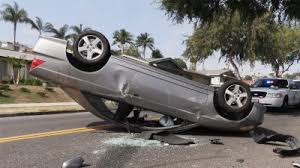 Bryan, TX (7/31/2020) – A man is now seriously injured after his vehicle rolled multiple times on Highway 6 in Bryan.
The accident happened Thursday evening near Davila Middle School by the Highway 6 and Texas Avenue split. An SUV made an improper lane change and swiped a pickup truck. The pickup truck swerved and rolled at least eight times. The driver of the pickup truck was then ejected.
According to police, the driver suffered non-life-threatening injuries, but a family member stated the victim has a broken back, broken ribs, and contusions on his lungs, and has possible paralysis.
Crash investigators will review all factors that may have led up to the accident and police reports will be made available in fourteen days.
Sideswipe accidents on an interstate highway can be deadly, because the reaction of many drivers is to immediately correct their action or move away from the car that is impacting them. Often, this knee-jerk reaction causes the driver to jerk the wheel and lose control, causing head-on or rear-end collisions, and in the worst scenarios, the car to flip over. In the case above, the pickup truck swerved and rolled at least eight times, causing life-threatening injuries upon the victim.
If you were involved in a sideswipe accident and would like to discuss your injury and accident case with a personal injury lawyer from Sutliff & Stout, Injury & Accident Law Firm, feel free to give us a call at (713) 987-7111or send us an email to discuss your claim.
Source: KBTX