Harris County, TX (10/25/2020) – Three passengers were killed and another person was injured in a fatal drunk driving incident.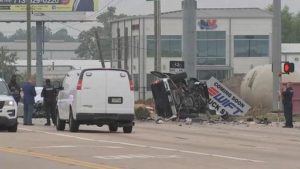 The incident happened when a Honda Accord traveling "at a high rate of speed" crashed into a black pickup truck that was making a left turn into a business. The collision forced the pickup truck driver to be ejected from the vehicle.
The driver of the Honda, 47-year-old Camilo Morejon, was charged with three counts of intoxicated manslaughter. Police say he was intoxicated at the tie of the crash and "open alcoholic beverage containers" were found inside the Accord.
Three passengers in the Accord were killed as a result of the collision. They were identified as Leosveyks Gonzalez, 35; Ricardo Rodriguez Tamayo, 40; and Massel Rodriguez Tamayo, 32.
The truck driver, 45-year-old Pedro Hernandez-Martinez, is hospitalized in very serious condition.
Morejon was hospitalized with non-life-threatening injuries.
Crash investigators will review all factors that may have led up to the accident and police reports will be made available in fourteen days.
Wrongful Death Lawyers, Sutliff & Stout
The dangers of drunk driving are well known. The impairment caused by alcohol consumption frequently leads to devastating vehicle collisions which often result in incapacitating injuries and even deaths.  Because Morejon caused a crash that lead to the deaths of three people, the right for the families of the three victims to file a wrongful death claim is substantial. To do so, it's important to consult legal counsel while you file your claim since insurance companies may trick you into settling with little to no money.
The best way to make sure you are treated fairly after your car accident is to hire a lawyer who knows the law and who is willing to fight to make sure that you are treated fairly. At Sutliff & Stout that is exactly what we do.  Our Board-Certified personal injury lawyers know how to hold the insurance companies accountable and get you the money you deserve. Contact us today (713) 987-7111 or fill out the case review form.
Source: NBC News 
Our deepest condolences go out to the families of the victims of this horrible incident. Please click the "Remove Post" link if you would like this post removed. REMOVE POST