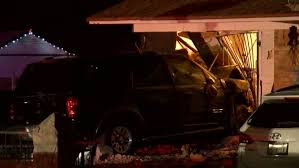 El Paso, Texas (12/30/2019) – Ruriko Denison, 87, died Friday, Dec. 27, after a drunk driver crashed into her home and killing her while she was asleep early Monday morning.
The incident happened shortly after 1 a.m. at the intersection of Junction and Kenworthy in El Paso, Texas. According to police, Margaret Cantu, 41, was driving intoxicated on Kenworthy when she crashed into Denison's bedroom.
Denison was taken to University Medical Center for treatment of a fractured leg, right wrist, lower back, and jaw injuries. She died Friday.
Cantu faces Intoxication Assault with Serious Bodily Injury charge with a $250,000 bond.
Crash investigators will review all factors that may have led up to the accident and police reports will be made available in fourteen days.
According to Texas law, an Intoxication Assault involves a person who commits an offense if the person, by accident or mistake, operates a motor vehicle in a public place while intoxicated, by reason of that intoxication causes serious bodily injury to another.
Serious bodily injury means an injury that creates a substantial risk of death or that causes serious permanent disfigurement or protracted loss or impairment of the function of any bodily member or organ.
Because the woman was left with serious injuries, and ultimately killed, and the driver is seen to be negligent while behind the wheel, it's important to seek legal assistance who handles cases of negligence and intoxication assault. Call personal injury attorneys Sutliff & Stout at (713) 987-7111 or send us an email to discuss your car accident injury case.
Source: KTSM
Our deepest condolences go out to the families of the victims of this horrible incident. If a family member would like the name of a person removed for any reason, please click the "Remove Post" link. REMOVE POST