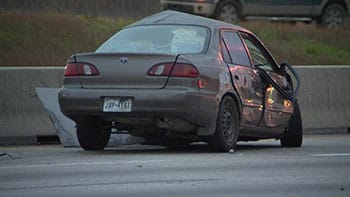 Houston (March 4, 2019) – Drivers in north Houston experienced major traffic delays after a fatal car accident shut down the North Freeway.
The crash happened around 5:15 a.m. on I-45 near Shepherd. According to reports, the victim was driving a gray Toyota Corolla entering the freeway when he hit the guard rail barrels. The driver lost control of his car and crossed two lanes of freeway traffic. He collided with two oncoming cars that caused the Toyota to spin and hit a concrete guardrail. The driver of the Toyota died on the scene. Witnesses told authorities that it looked like the driver may have had a tire blowout or mechanical problems when he lost control of his car.
The driver of Honda, which collided with the Toyota, sustained minor injuries and was transported to a local hospital.
The identity of the male victim is pending verification by Harris County authorities. Crash investigators will review all factors that may have led up to the accident.
If you or a loved one were involved in a car accident, it is important to contact a legal expert to help you evaluate your options. Call (713) 987-7111 or send us an email to discuss your car accident injury case.
Source: Click 2 Houston
If a family member would like the name of a person removed for any reason, please click the "Remove Post" link. REMOVE POST